Taking Advantage of the Time Out
Udyog Kala Kendra, the workshop which produces much of our block print and batik fabrics, is usually humming with activity. The printing blocks tended to pile up here and there, making it difficult to find any particular one. The enforced work stoppage gave them the opportunity to do a massive workshop reorganization. Over 120 carved wood blocks were cleaned up, divided into categories and carefully catalogued according to size and pattern. This will prove very useful in the future — no more hunting!
Shipra Tank - Black/White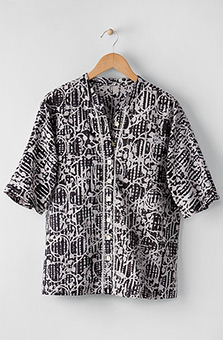 Sanjoli Top - Black/White
$58.00–$62.00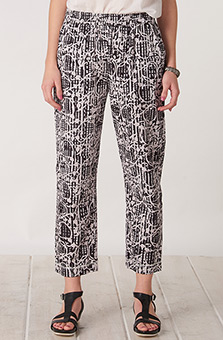 Kavya Pant - Black/White
$69.00–$72.00
CUSTOMER REVIEWS





So comfortable
Jul 19, 2021
By Yvonne Snyder
This dress is so comfortable and perfect for hot summer months. I wish it came in other colors. I would certainly buy again.





Mahika Dress
Jul 13, 2021
By Lauren
Beautiful, comfortable, and cool. This dress has it all!





Love this dress!
Jun 14, 2021
By Lyn
I love this dress! It's cool and comfortable and makes me feel good when I wear it. I wear it around the house on hot days and plan on using it as a cover up when I take my grandchildren to the beach. I'm 5'10" tall, around 160lbs and got a medium. It fits perfectly -- hits me just below the knees. very easy care





Absolutely adorable
Jun 12, 2021
By Caroline
Very comfortable and perfect for summer. The length is perfect. It hits below my knee and I am 5'7"





Very sweet dress
Jun 6, 2021
By Rochelle Gatlin
It's not quite my type, and it is a bit short, but it is so sweet and well made. I especially love the print variation at the top and the embroidery.





Great dress
Jun 2, 2021
By Bette Sussman
Love the dress. Went up from L to 1X so that it would be longer. Need to cover these old knees!