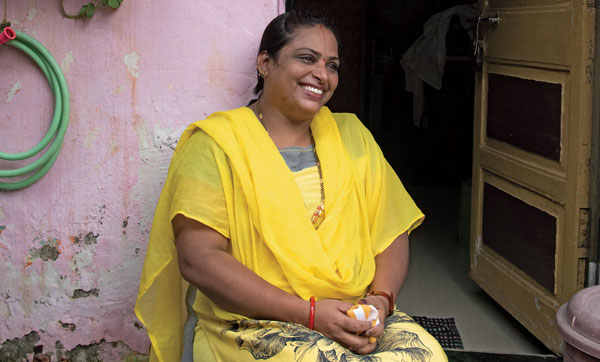 Pavithra Vishvakarma: Tailor, Nirmaan Collective
Pavithra Vishvakarma joined Nirmaan Collective 2 years ago because she had to support her family. She was glad to be able to earn the needed income. She was also surprised with the personal support she found with the group. She had loved arts and crafts when she was a young woman, but the expectations and responsibilities of marriage and family had overwhelmed her personal enthusiasms. At the collective she found kindred spirits, women actually talking about liking to do drawing or other crafts! The group also organizes competitions, exhibits and many creative activities. For a show on handmade eco–friendly bracelets, Pavitra won first prize. "Not only do I get to be creative, I am also given recognition for it."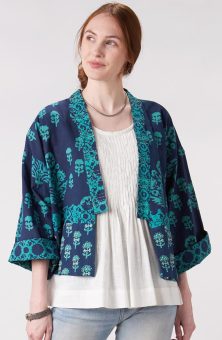 Sikkim Jacket - Navy/Teal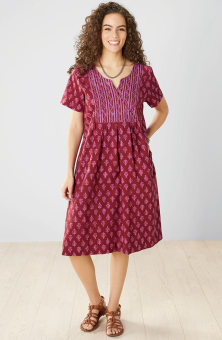 Nalika Dress - Wood violet/Multi
$104.00–$108.00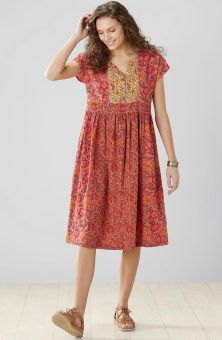 Manali Dress - Punch/Multi
$118.00–$122.00
Write a review
---
Very cute dress
Mar 31, 2022 | By Gayle Larson
Cute and stylish. Well made and fits well. Very comfortable. Great quality.
---
Love my Mahika dress
May 1, 2022 | By Thea
The colors are great, it is well made and fits perfectly! Thank you so much, Sadhna, for making it so beautifully.
---
Another Winner!
Jul 18, 2022 | By Ellen
I've been shopping here for years and have never had a bad experience. I especially love your dresses, most recently, the Malika in Navy/Teal. The material is pure cotton, washes easily and line dries without any need to iron. It's cool, comfortable and stylish. This Malika dress is perfect for our muggy summer weather and manages to look fresh throughout. I greatly enjoy your products and respect your committment.
---
Mahika Dress
Jul 25, 2023 | By Ritva
I love my Mahika Dress. The fabric is soft and comfortable, the colors are beautiful, and the fit is just right for a short, robust professional.
---