Sharing Opportunities
Several years ago the artisans helped establish the Armaan Club for their own children. Recently they wanted to extend a hand to other children in their slum neighborhoods. The result is "Education for Life," a combination of study space and programs designed to help children succeed. Children attend Life Skills sessions which cover academic skills social behaviors and emotional maturity. Older children have the opportunity to increase their computer skills. Adolescents are helped to learn about career options and how to develop employable skills.
Samina Dress - Cobalt
$82.00–$86.00
Smita Dress - Black
$89.00–$92.00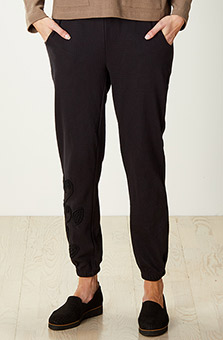 Jogger - Black
$72.00–$76.00
CUSTOMER REVIEWS





Great Dress
Sep 10, 2021
By Ana
Well made, quality material, and fits beautifully. A very versatile dress, easy to wear day-night.





High quality knit
Mar 12, 2021
By Jeanne Davis
This beautifully cut tunic (at my age it's far too short for a dress) is the perfect piece for fall or spring. The knit absolutely doesn't wrinkle and has a substantial feel. Yes, the sleeves are far too long, but easily shortened





Great fabric
Jan 22, 2020
By Barbara Rand
The sleeves on this tunic are waaaayyy too long. They are about 3 inches longer than my arms so I will cut and hem them. I love the neckline and fabric of this tunic and hope to get much wear from it.