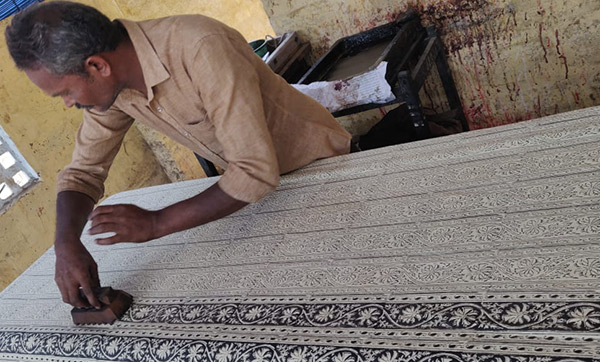 Kalamkari:
The word Kalamkari is derived from a Persian word where 'kalam' means pen and 'kari' refers to craftsmanship. Initially Kalamkari fabrics were hand painted but today wooden carved blocks are used. Kalamkari textiles were a prized trading commodity throughout Asia and Europe for hundreds of years. This traditional art has survived among dedicated artisans in southern India who follow the age–old techniques and natural dye recipes of this painstaking process. The process can involve 23 steps each requiring precision and an eye for detailing.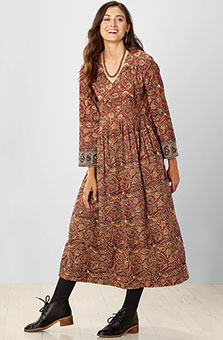 Geethali Dress - Red natural dye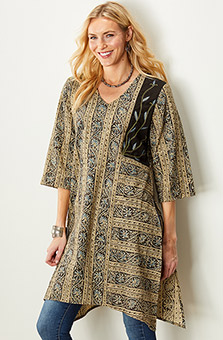 Rashi Kaftan - Olive/Blue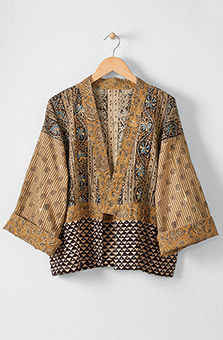 Sikkim Jacket - Olive/Black
Write a review
---
Gorgeous
Feb 14, 2022 | By Diane
This dress is really lovely. The embroidery on the cuffs was a pleasant surprise. The overall workmanship and the fabric itself are gorgeous. I highly recommend.
---
a lovely easy dress
Feb 16, 2022 | By Wiebke Moore
The dresses are always well made, hand embroidered details and the fabric are beautiful and comfortable cotton
---
Charming dress , all day versatile
Feb 22, 2022 | By Kim
Lovely subtle embroidery details catch the eye, the drape is attractive and comfortable. Throw on some shiny amber and off to dinner.
---
Wonderful dress
Feb 23, 2022 | By Kathleen Buckley
It looked good in the picture and I thought it would be the perfect hot weather dress for wearing around the house. Instead, I'll be wearing it for dressy occasions in hot weather. It's much prettier in person than in the picture; I was kind of blown away by the colors and patterns and the hints of embroidery. Wow!
---