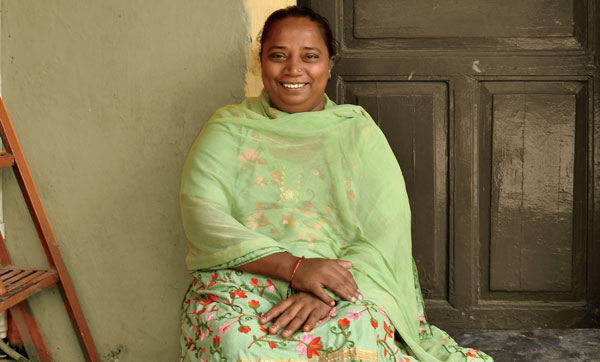 Safiya Begum Khan: Embroidery Artisan, WARE
When Safiya got married, her husband told her to give up her job at WARE. When he lost his job, however, Safiya convinced him to let her rejoin WARE. This was their lifeline when he lost his job again permanently during COVID. When other businesses were closing and laying off, MarketPlace paid all the artisans a subsidy although they could not work. "I was the only person receiving money. This changed the way he looked at me and my job." He had never understood the commitment and support she felt. She further impressed him when she argued with authorities on his behalf and convinced them not to fine her husband for unauthorized street sales. Now she feels her husband has new respect for her work and her abilities. "Things are much better than before."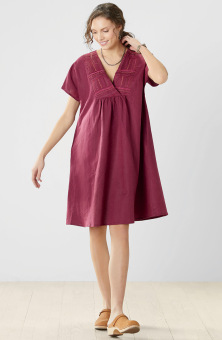 Namita Dress - Radicchio
$112.00–$116.00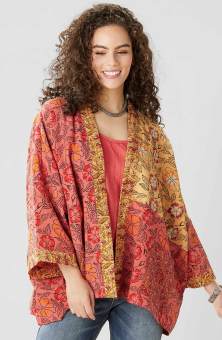 Sunita Jacket - Punch/Multi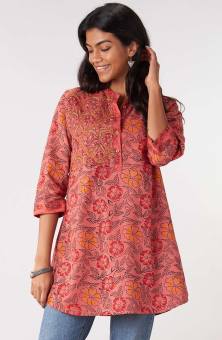 Vibha Tunic - Punch/Multi
$104.00–$108.00
Write a review
---
Lovely dress
Apr 13, 2023 | By Jane
This has quickly become my new favorite dress. The colors are vibrant and the work is flawless. I have received compliments on how beautiful it is from children and adults alike. I honor the quality of the work of its creators and am delighted to wear it.
---
Too small
Jun 14, 2023 | By Abbi
It's a beautiful dress but runs so small in the bust. I've always worn a 2X from Marketplace but this is the second one that's too tight this year. Sadly, I must return it.
---
Not the same
Aug 17, 2023 | By Linda
I've ordered many dresses over the years from Marketplace. The fabric and fit of this dress are way off.
---