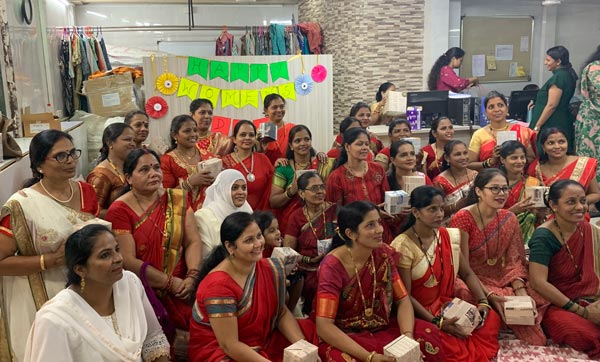 International Women's Day
In 2023, the U.N.'s theme for International Women's Day (March 8) was "Innovation and Technology for Gender Equality." The artisans could really identify with this issue as the restrictions associated with COVID had forced them to find new ways to do business. Many of the solutions involved technology, and women who had hardly used a smartphone became proficient with WhatsApp, product tracking software, and other programs. Celebrating IWD, artisan leaders from all the groups came together to present skits highlighting their new knowledge and use of technology. Video calls replaced in–person meetings, Live Location facilitated product deliveries, and improved tracking systems all combined to not only keep the businesses going, but to actually improve production, efficiency, and the artisans' skills and self–confidence.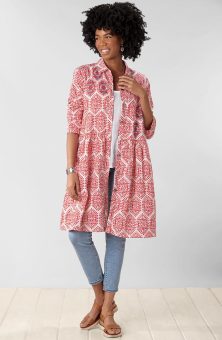 Rajni Dress - Red/Powder
$94.00–$98.00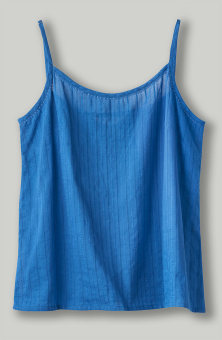 Cami - Lapis
$35.00–$38.00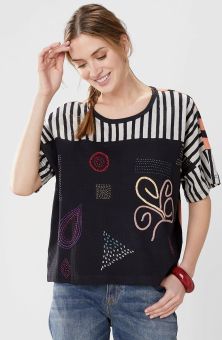 Nisar Sampler Tee - Black/Multi
$88.00–$92.00
Write a review
---
FABULOUS!!!
Apr 8, 2023 | By Mary Ann Salomone
LOVE this shirt...it is fun, whimsical, so easy and breezy to wear and tons of compliments...Everyone wants one that sees in on me...It is a WINNER!!!
---
FABULOUS!!!
Apr 8, 2023 | By Mary Ann Salomone
This a wonderful top!!! it is easy breezy to wear...so whimsical and FUN...everyone that sees me in it wants one...this is a WINNER, KEEPER....Smart move on the Marketplace catalog to introduce a higher price range to their collection...I think they will find that it is a very profitable way to go.
---
FUN FUN FUN
Apr 21, 2023 | By Mary Ann Salomone
I ordered this shirt because it looked like a really comfortalbe "hang out" shirt. It took a while to come but since I got it, I wear it every chance I get. It is SO cute!!! I am in my 70's but young at heart and my 20 year old niece saw it on me and LOVED it...so one is on its way to her. The embroidery is so well done and so much detail. I really like purchasing items from this catalog because it supports these wonderful artist in the third world. Most of their items are too "frumpy" for me...but I have noticed that there is a recent effort to bring a more modern touch to their styles and I thin this shirt is the signature of their attempt to update their look. It is a winner!!!!
---