Parental Support And Strength
While the artisans´ children have had access to educational support through the Armaan Club, there are few resources for the other kids in the community. Education for Life offers programs to all children in our Santracruz neighborhood. The programs were enthusiastically welcomed and supported. When in-person classes were replaced with activities that could be conducted over cell phones, the families also participated to help make it work. Parents took messages, older siblings supervised lessons, and the more technically proficient advised others.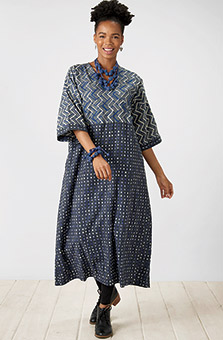 Jyothika Dress - Mineral
$92.00–$96.00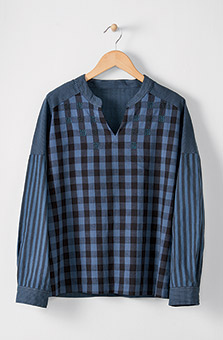 Tanika Top - Lake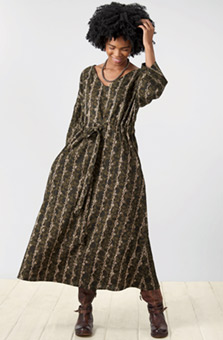 Piyali Dress - Dark olive
Write a review
---
Very comfy
Sep 8, 2021 | By Marcia Prather
Very comfy. Not as much swing as I expected but that doesn't detract from it at all. Love it.
---
Informal and comfortable
Oct 14, 2021 | By Jane
I wanted an informal, comfortable dress to wear around the house after a shower that would also get me to the mailbox or the front door. This dress is perfect. I love it. It fits perfectly over my broad shoulders and the sleeves are a perfect length.
---
Really wanted to love this...
Jun 29, 2022 | By Susan Upson
Lets start with something good! The fabric of this garment is not see through, which is something I was worried about. It is also well made and the variation of the stripes is visually interesting. The fabric will inly get better with a good laundering and pressing. .However, the colors make me look absolutely blah, and for this reason only, I am returning.
---