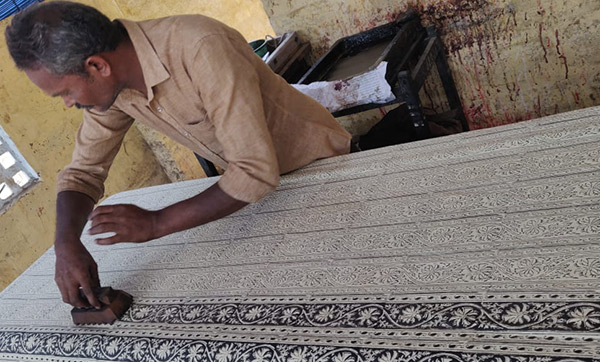 Kalamkari:
The word Kalamkari is derived from a Persian word where 'kalam' means pen and 'kari' refers to craftsmanship. Initially Kalamkari fabrics were hand painted but today wooden carved blocks are used. Kalamkari textiles were a prized trading commodity throughout Asia and Europe for hundreds of years. This traditional art has survived among dedicated artisans in southern India who follow the age–old techniques and natural dye recipes of this painstaking process. The process can involve 23 steps each requiring precision and an eye for detailing.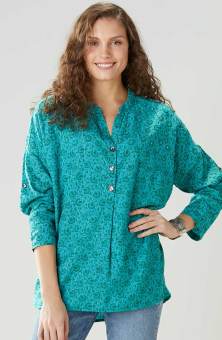 Manipur Tunic - Mediterranean blue
$98.00–$102.00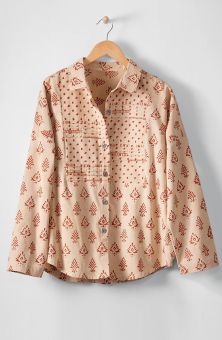 Maithree Big Shirt - Natural/Pepper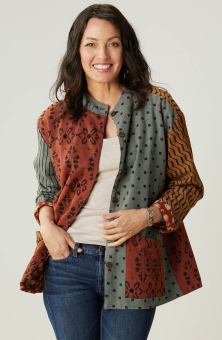 Reversible Chirala Jacket - Herb/Multi/Pepper
$162.00–$168.00
Write a review
---
It's all right
Jun 27, 2023 | By Suze
I like the burnt orange color. I ordered a size down, based on the fact that it's a generous fit. Before washing it's just right size-wise, so I'll see what happens once it gets washed. Bummer that you're supposed to hand wash and line dry. I have several items from Marketplace and usually machine wash and dry, to no ill effect, so I'll probably do that with this garmet also. It's ok, and I assume the colors will be nice for fall and a better alternative to a henley or long-sleeved tee.
---
just as promised
Jul 20, 2023 | By susan
I looked at size recommendations, model's size and fit -- and got the perfect top. The color is true, the cotton is wonderful and the fit across shoulders and hips just right. This is my third order from Marketplace and I couldn't be happier with the quality-- and their wonderful designs. Thanks from a happy customer.
---
delightful print
Aug 20, 2023 | By Mary L
I love the print! Seems almost like many eyes peeping out from the rust background, with delightful embroidery in some. I normally wear a 10-12, but based on printed measurements of the garment, ordered a S. That fits well, though I am not usually considered small.
---