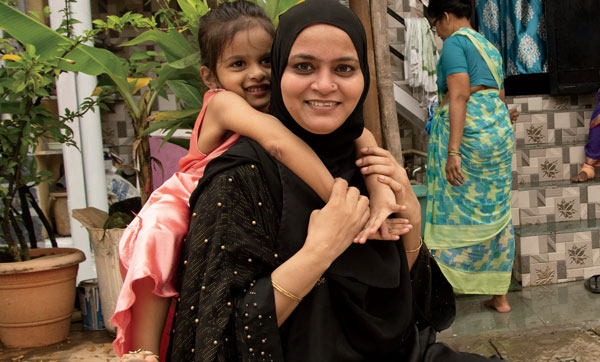 Tasleem Alauddin Shaikh: Embroidery Artisan, Ghar Udyog Collective
Tasleem Alauddin Shaikh had doubts. "When I first joined Ghar Udyog Collective I was told that I would have to attend meetings. I was not very happy about that. I just wanted to earn money." These meetings are organized with the groups to supplement the artisans' work experience and increase their self–confidence. Tasleem discovered that many of the programs were indeed helpful to her. Married at 16 with no experience of bringing up children, she had struggled on her own. As a member of the group she was able to participate in sessions with therapists, social workers, and other discussion groups have helped her with anger management, improved her relationship with her children, taught her about conflict resolution, and informed her of cost–free programs for her children. Now she says, "I think access to knowledge is the most important thing in life."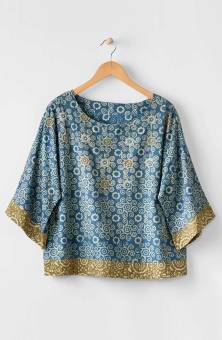 Sujaya Top - Lake
$74.00–$78.00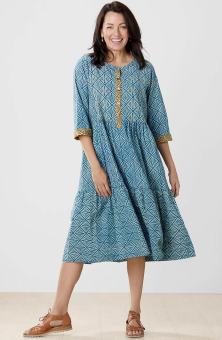 Kashvi Dress - Blue agave
$104.00–$108.00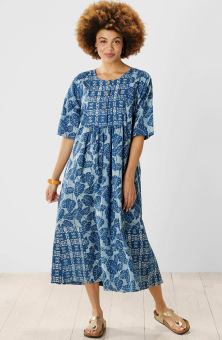 Zamania Dress - Indigo
$128.00–$132.00
Write a review
---
Beautiful Dress
Mar 26, 2023 | By Sally Foster
The shape of the dress is very lovely. The shipping was lightening fast!
---
Perfect at-home dress
Apr 15, 2023 | By Katharine Darlington
This will do a good job of providing me a comfortable, but stylish, dress to wear at the end of the day. The cotton is a nice weight, it was true-to-size, the hand embroidery was a nice touch, and it washed up nicely.
---
Lovely
May 1, 2023 | By Christine Aleta Jacobson
Lovely dress! The embroidery and color are beautiful. I have 3 from Marketplace in this style and love the loose fit. All three dresses are mediums and fit the way I like them. This particular one I had to return because, though it was a M, it was a bit too tight. I like my clothes to fit loosely and should have ordered a Large. So, if you like your clothes on the looser side, I would order one size up.
---
Love this dress
May 7, 2023 | By Alex Nova
I love everything about this dress: the color, the pattern, the clever embroidery, the lightweight but no-see-through fabric. The lantern shape is ingenious, giving the dress the flowy breeziness you want on hot summer days without looking like a shapeless tent. I will probably live in this and my three other Marketplace dresses all summer long.
---
Love It!
May 23, 2023 | By Betsy Reid
The dress is well made; one of a kind; and fits as expected!
---
Great Dress
May 23, 2023 | By Colleen Powell
Just ordered and received this beautiful dress. So soft, looks great and the size was perfect. Can't wait to order more from this company.
---
Comfort and cool? Yes thank you!
Jun 6, 2023 | By Anne D.
When the temperature and humidity are both in the 90's you need clothes to fit the climate. This dress fits the requirements. Light, cool, and fitted to flatter.
---