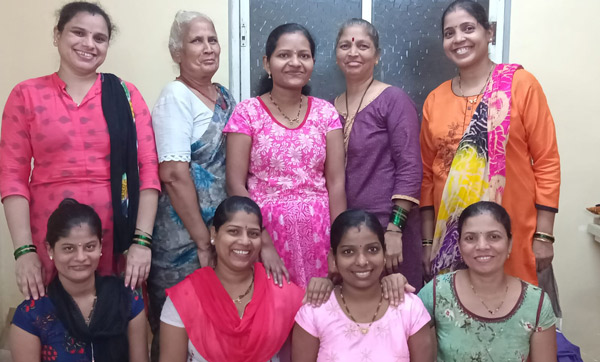 Pragati Cooperative Define Their Brand
Pragati Cooperative is the newest group to join the MarketPlace network. It was started during the COVID pandemic in spite of all the shortages and restrictions. And that was not the only challenge they faced. These women had no experience running businesses, and they were initially strangers. Through dedication and determination, they pulled together learned and became a cohesive unit with 3 tailors and 6 embroidery artisans. They are eager to add to their knowledge and are quick to volunteer for jobs. They identified these 4 aspects to describe their identity:

1.Unity
2.Responsibility
3.Happiness
4.Work Satisfaction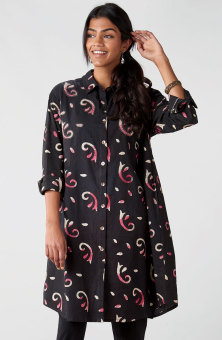 Rima Shirt - Black/Orchid
$98.00–$102.00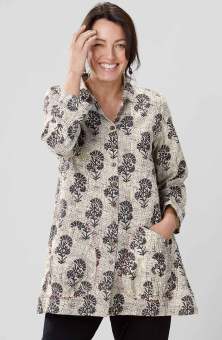 Anarya Shirt - Natural/Black
$92.00–$96.00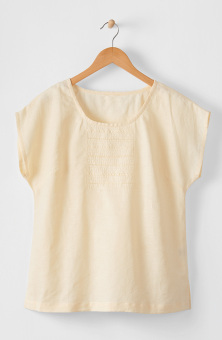 Tivisha Top - Buttermilk
$62.00–$65.00
Write a review
---
Great pants, but too short
Oct 13, 2017 | By Christa Malone
Comfy cotton pants and well made. Their only drawback is the length. You can wear them as cropped or ankle pants with sandals in the summer, but they are way too short to wear with closed shoes in the winter. Please make the inseam longer!
---
Great Pants!
Nov 7, 2017 | By Joanie B.
These pants are so comfortable, I plan to wear them a lot. The go so weell with a tunic I also bought. I'll probably buy some more tunics to wear with them.
---
Love these pant!
Nov 14, 2017 | By Alice
These pants are comfy and flattering. Since they are black could be worn many ways. I read other reviews that said they ran short, but these are perfect for me. Normally I wear 10-12 petite and the regular mediums fit me perfectly.
---
knit pullon pants
Nov 24, 2017 | By Jody Sims
Hi - Beautiful pants, well made in nice fabric -
But the waist was too small. I'm tall so they are too short for me also. I thought maybe I was sent the wrong size so I gave them to charity.
---
Maddy
Dec 22, 2017 | By Maddy
Love these pants! Length is perfect on me and will go under boots nicely in winter. Hard to find plain, black, comfy waist, generous pockets and tapered ankles anywhere (and I've looked!), but these Maya pants have it all!! Thank you and please do not ever discontinue this style!!! Thanks ;-)
---
Need More!
Jan 9, 2018 | By Katarzyna
These pants are perfect in the length for petite. I need more.
Please make them available again in PL.
---
Comfort and great fit
Mar 28, 2018 | By Florence Hosler
I love the fit and the feel of the fabric.
---
Love these pants
Apr 20, 2018 | By Mary Kelly
I have trouble finding pants that fit and that are comfortable. These pants are so soft and so comfortable. I am buying another pair!
---
So comfortable and Looks Great
May 9, 2018 | By Mary Kelly
I love these pants. They are very comfortable and look great. I ordered another pair because I know I will be wearing them a lot.
---
Comfy and cute
Jun 5, 2018 | By Jen
Love these pants. They're adorable, comfortable, and they have pockets! Will be ordering more.
---
Comfy pants!
Jun 7, 2018 | By Sarah Price
They're long enough and loose enough to be really comfortable. And they have pockets!
---
comfy
Jun 26, 2018 | By Jeanne Deaux
These are terrific pants. Nice and small in waste and loose in hips/thighs, they fit real women. I have so much trouble with the ubiquitous stretch pants sold now--tight thighs and huge waists mean they walk down my body :( I love these all cotton, skinny on the calf, loose on the thigh, comfy and perfect for summer pants!
---
Great Pants
Jun 27, 2018 | By CATHERINE MCCASKILL
I read the previous reviews regarding these pants and I really wanted a pair. I already knew that they were ankle pants but tried them anyway. I am tall and unfortunately they were too short for me, so I gave them to my daughter and they fit her perfectly. I will be checking to see if these pants are made for tall individuals and I will certainty buy more than one pair because I love the craftsmanship and the tapered legs on this garment.
---
Love these pants
Dec 16, 2018 | By Joan Barnhart
I love these pants. I now have 3 pairs (I worry that they won't stay in stock so I have a spare!) They are very comfortable, and can be dressy, or not. They wash well.
---
Love these pants.
Jun 5, 2019 | By Beverly Smith
I wear these so often with all my other Marketplace India tops. Extremely comfortable and wash well . This is actually my second pair because I love them so much.
---
Great Pants
Jan 29, 2023 | By Sarah
I'm tall - 5'9" and these are cropped. Love them! Fit great. I saw the comment about being too short for winter, but these are just fine. Add a layer underneath (like a tight, or a tall, funky sock and boots). They are very cute. I also have a large hip measurement and these are form fitting around my bum, but I love them. Very comfortable I think they will stretch a bit with wear as well. I hope Marketplace will think about adding them in different colors. I'd love a raspberry color or tangerine.
I will buy more in an instant! Great fit.


---
My go-to pants
Apr 8, 2023 | By Amy Hay
I love these so much! They are comfortable and not too heavy. And they fit perfectly on my short fat legs! I have 4 on hand and they are in constant rotation. I've just ordered 2 more!
---
Have four pair
Jul 4, 2023 | By Jane
These are my go to summer pants. I need to order the next largest size but they are not in stock. I hope they will be a available soon
---