Sharing Opportunities
Several years ago the artisans helped establish the Armaan Club for their own children. Recently they wanted to extend a hand to other children in their slum neighborhoods. The result is "Education for Life," a combination of study space and programs designed to help children succeed. Children attend Life Skills sessions which cover academic skills social behaviors and emotional maturity. Older children have the opportunity to increase their computer skills. Adolescents are helped to learn about career options and how to develop employable skills.
Meenu Tank - Sand/River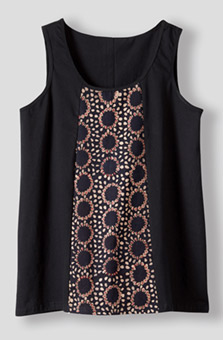 Kripa Tee - Black
$42.00–$45.00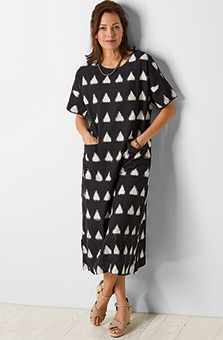 Vishala Kaftan - Black/Natural
$99.00–$104.00
CUSTOMER REVIEWS





Beautiful sleeveless shirt
Apr 8, 2021
By Carolyn
This top is stunning and versatile in its black and white design. A good fit for my 1x body and excellent workmanship!





Beauitful quality
Mar 29, 2021
By Dianne Benson
The hand dyed fabrics are wonderful