Prajakta Medhe Interviews Her Grandmother Sevanti Medhe
During the summer of 2021, the children of the artisans were asked talk to their grandparent to learn how things had changed. "My grandmother told me how they used letters and telegrams in their times. Today we just make a call and our uncle comes to pick us up at the railway station. There was no way to tell if the trains got late or there was any problem on the way. What I really like about my grandmother is that she is a very caring person."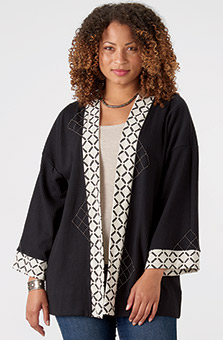 Meera Jacket - Black/Natural
$72.00–$76.00
Meera Jacket - Sunlight
Avni Top - Natural/River
$62.00–$65.00
CUSTOMER REVIEWS





Denim Will Pop !
Oct 6, 2021
By GINGER WASHBURN
Just as I anticipated...this Azure jacket is perfect for kicking my denim up a notch or 2 ! Layers brilliantly with jeans,boots & sassy blouse underneath...when it's chilly...rolled neck sweater. Lots of silver also. I'm about 5' 4"....I28 lbs. , got L...just enough swing to appear I have hips. (LOL). Love it.





Love the jacket
Jun 1, 2021
By Sharon
I love this jacket! The color and print is beautiful! The artist did a wonderful job on it.





Just Right
Aug 1, 2020
By Maureen Gaffney
I often need something to protect my neck and shoulders from air-conditioning drafts. This lightweight jacket is the perfect solution. Though made of woven material, the fabric is light and yet its double-layer kimono collar perfectly protects the back of my neck. The jacket's short length is another bonus; I spend so much time working on a computer that a longer jacket would probably get wrinkled. Beyond its practical advantages, what attracted me to the jacket was its design and color. As with everything else I've purchased from Marketplace India, the jacket's silhouette, its colors and fabric pattern, and the handiwork involved in its construction are exceptional. Thank you!