Working Remotely During The Pandemic
MarketPlace has many ways to maintain high quality. Normally these involve actually holding a piece and examining it. Fabric color and print are compared to sample swatches to make sure they are right. The groups make finished sample garments in all sizes and these are carefully inspected. With the lockdown, some tasks had to take place over Zoom. But colors are not accurate on monitors, and checking measurements remotely is a risky business. The staff took turns going to the office for in-person looks. To read on, visit our blog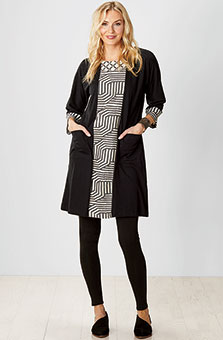 Patna Dress - Black/Natural
$88.00–$92.00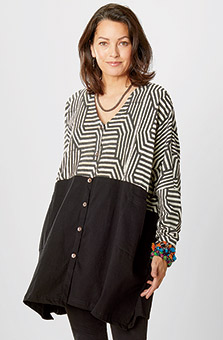 Shanta Tunic - Black/Natural
$88.00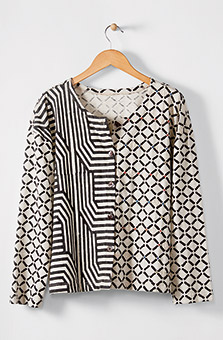 Mysore Top - Natural/Black
$74.00–$78.00
CUSTOMER REVIEWS





I'd love it if it came in others colors, too
Dec 8, 2021
By Debbie
Fits very well, cozy fabric, easy to dress up or down





Can't wait to wear this!
Oct 23, 2021
By Karen A Brinkman
Just received and love the weight and fit. A little too warm to wear day to day while working from home, will be a great addition to my business casual wardrobe as I begin office reentry.





Beautiful!
Oct 3, 2021
By Sunny
This jacket is elegant and comfortable -- love it!