Invisible Effects Of The Pandemic.
There are many sources of stress for the artisans during the lockdown. They are anxious about their livelihood, the health of their family, their children's future…On top of this they are stuck in crowded homes, working around the clock to take care of their families. Staff therapist Rupal Ajmera has arranged on-line sessions to help the women deal with issues of anxiety, relationships and time management. She holds regular Google Meets for groups of women, and artisans are also able to request individual sessions.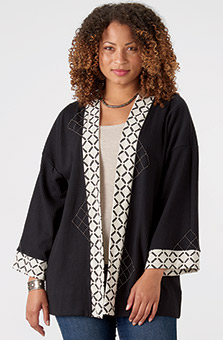 Meera Jacket - Black/Natural
$72.00–$76.00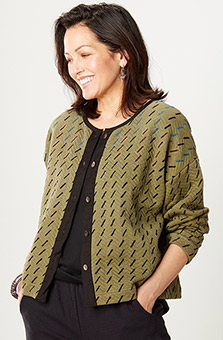 Neha Cardigan - Curry leaf
$88.00–$92.00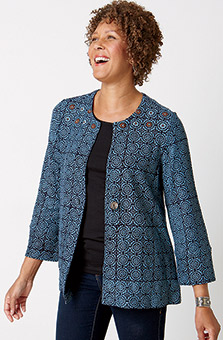 Akola Jacket - Teal
$75.00–$79.00
CUSTOMER REVIEWS





Elegant jacket
Jan 22, 2020
By Carol
A perfect jacket for dressing up with a necklace or scarf, or wearing casually with a t-shirt or turtleneck. Light, but warm. Love the open front.





NICE jacket!
Jan 22, 2020
By Megan
This jacket goes with so many colors. My only suggestion would be to add pockets.





Campy Composer
Dec 14, 2019
By Hollis Wayne
Totally fabulous jacket! Soft, drapey, heavy enough to be WARM on a chilly Texas night, beautiful and just the right length. Got it here in time to wear for my debut as a neo-classical composer at a local event a week ago, and got many compliments. Now it's become my go-to layer over a black turtleneck for in-house wear during chilly days. Love the grey and black and white color, but am now wishing it came in another color --- like red and black & grey! I would definitely have two of these if there was another color. It's just the right heft and weight for wearing much of the year, indoors and outside, here in Texas. Great design, make some more, please!
Owner Response: We're glad you are enjoying your purchase. This style is available in another color. You can search for it by code - 58A-24. We are featuring 2 new versions, one in natural dye woven fabric and another in jersey in our upcoming spring line.





Merry jacket
Nov 28, 2019
By Jan
Love this jacket. Flatering and comfortable. Wish the t shirt was available but was out of stock.





Lovely warm jacket
Nov 16, 2019
By Mary
This jacket is the perfect weight to pair with a light weight tee. Accurate sizing too. Very happy I made this purchase.





Love this jacket!
May 2, 2019
By Katlyn Breene
It is so soft and comfortable, the look is casual but stylish. I would buy one in another color in a second!





Lovely made jacket , I was surprised at the weight of it though, thought it was lighter in weight, probably to heavy for summer use, but still lovely... thank you...
Apr 9, 2019
By Debbie Bowdish
above