Make From Waste
The women in the Social Action Program decided to find a more eco–friendly way to celebrate festivals. Typically Indian community celebrations produce decorations that are wasteful and bad for the environment, such as figures made of plaster of Paris and toxic paints. The artisans felt that they could make change happen on a personal scale by using recycled and leftover materials. In a friendly competition the women have turned leftover bits of cloth, paper, wax – whatever they find when they clean out their homes for the holiday – into wall hangings, vases, lamps and more.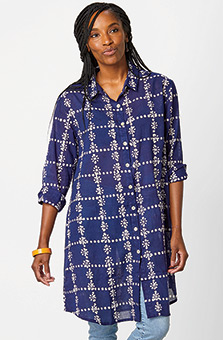 Rima Shirt - Navy/White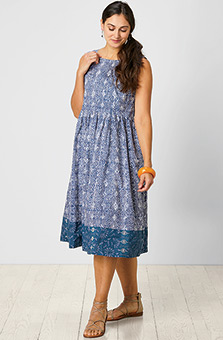 Radhika Dress - River
$108.00–$112.00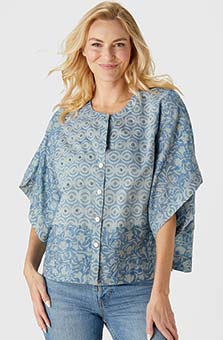 Laksha Top - Sea blue
$72.00–$76.00
CUSTOMER REVIEWS





Oh No!
May 25, 2021
By Karen Richards
Under than underwear, I have never purchased a duplicate piece of clothing. And looks like I won't break this record. Received a Nahila shirt yesterday and tried to order another one today. Why? Because it is the first shirt (really a dress) that I would be so heartbroken if I lost or damaged it. Of course, it is sold out. If it is still in stock in your size, you might want to know that although it is a linen/cotton blend, it is fairly sheer. It is a lightweight and soft fabric...not the crisp fabric that you see in the photo. I will need to wear a white T-shirt underneath. The blue is not as dark as it appears - It is a perfect match for stonewashed denim. The outline stitching at neckline is MUCH cooler than it looks. Really adds a feel of craft to the design. Side pockets and a breast patch pocket- Yea! And, finally, the HAND PAINTED "slash" brushstrokes are exuberant and joyous. Wear it in good health!