Different Circumstances Call for Individual Responses
For the first three months of total lockdown, MarketPlace continued payments to the artisans. When the restrictions loosened, the women who live near their workshops could go there for work. However, some women, particularly the older or unwell, were reluctant to leave home. Other artisans who live nearby are helping them by taking their pieces back and forth so that they can still work and earn. For those women who live further away, MarketPlace has continued to pay them. Different circumstances call for individual responses.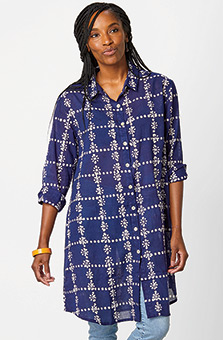 Rima Shirt - Navy/White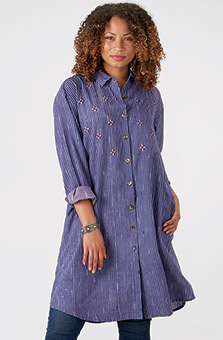 Rima Shirt - Amethyst
$112.00–$118.00
CUSTOMER REVIEWS





Oh No!
May 25, 2021
By Karen Richards
Under than underwear, I have never purchased a duplicate piece of clothing. And looks like I won't break this record. Received a Nahila shirt yesterday and tried to order another one today. Why? Because it is the first shirt (really a dress) that I would be so heartbroken if I lost or damaged it. Of course, it is sold out. If it is still in stock in your size, you might want to know that although it is a linen/cotton blend, it is fairly sheer. It is a lightweight and soft fabric...not the crisp fabric that you see in the photo. I will need to wear a white T-shirt underneath. The blue is not as dark as it appears - It is a perfect match for stonewashed denim. The outline stitching at neckline is MUCH cooler than it looks. Really adds a feel of craft to the design. Side pockets and a breast patch pocket- Yea! And, finally, the HAND PAINTED "slash" brushstrokes are exuberant and joyous. Wear it in good health!