COVID Helped Us Reinvent:
The constraints and restrictions of the pandemic compelled us to find new ways to achieve our goals. Through meetings and actions the women worked together to march, protest and educate the public. They opposed corrupt officials and negligent garbage collection, and they attended training sessions on women's rights and health. But these were all in–person meetings and actions. We had to reinvent our strategy. Google Meet came to the rescue! The women, with limited or no computer experience, learned to use cell phones to attend virtual meetings, speak in turn – and mute/unmute.
Poncho - Verbena
$85.00
Cowl Pullover - Evergreen heather
$79.00–$82.00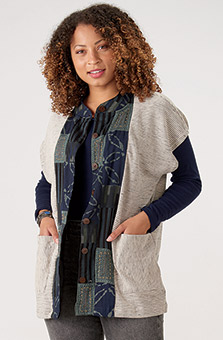 Manashi Vest - Natural/Chindi
$72.00–$75.00
CUSTOMER REVIEWS





Perfect garment
Feb 15, 2021
By Amy Orr
I love this vest/jacket. It sits perfectly on my 66 year old medium body. It will be very useful as a light cover, with POCKETS, over leggings and t-shits.