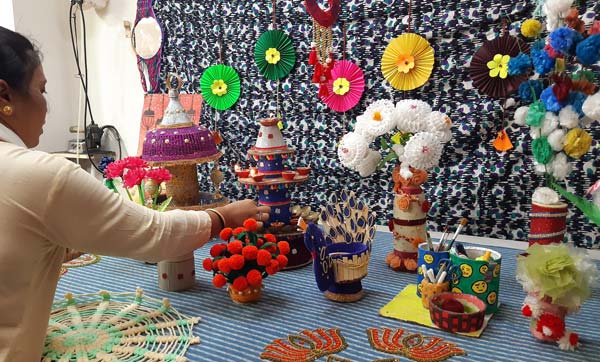 Make From Waste
The women in the Social Action Program decided to find a more eco–friendly way to celebrate festivals. Typically Indian community celebrations produce decorations that are wasteful and bad for the environment, such as figures made of plaster of Paris and toxic paints. The artisans felt that they could make change happen on a personal scale by using recycled and leftover materials. In a friendly competition the women have turned leftover bits of cloth, paper, wax – whatever they find when they clean out their homes for the holiday – into wall hangings, vases, lamps and more.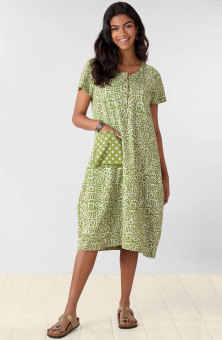 Parola Dress - Celery
$98.00–$102.00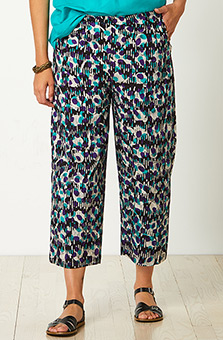 Kesari Pant - Black/Multi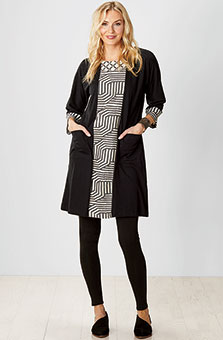 Patna Dress - Black/Natural
Write a review
---
Cute and comfortable
May 26, 2021 | By Gayle Larson
Great dress. Very well made and comfortable.
---
Najma Dress - Black/Multi
Jun 5, 2021 | By Mary Lou
The dress arrived within the promised time frame. It is lovely. Vibrant colors and fits fine for what I wanted. A friend was visiting when it arrived. She took my catalog and sticky tabbed 10 items. I have bought several pieces from MarketPlace India in the past and ALWAYS VERY HAPPY with my purchases.
---
Comfortable and very attractive
Jun 8, 2021 | By Rochelle Gatlin
I really like the combination of black top and printed shirt. It looks quite elegant, and will go especially well with the flax colored jacket I also purchased from MarketPlace.
---
Soooo fine!!
Jun 30, 2021 | By Jane McCune
I've bought many items over the years from MarketPlace Handiwork of India and I truly admire everything they make. The dress I recently purchased is wonderfully comfortable and ever so attractive. I'm making special jewelry to match the colors in the skirt. I love it!!
---
Love it
Mar 4, 2022 | By Arleen Weinstock
This dress is really flattering and easy to wear.
---