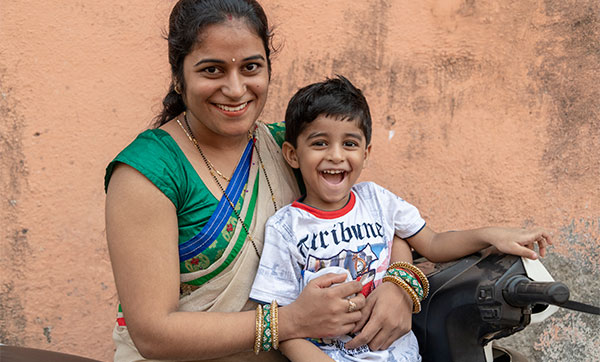 Aiming For Better
Rashmi Sharma came to Mumbai after she was married at 21. Her new mother-in-law was an embroidery artisan at Nirmaan and she encouraged Rashmi to join. The warmth and support of her fellow artisans helped Rashmi adjust and gain confidence. She is proud to be able to save some money for her 4-year old son's future. Looking ahead for herself, she plans to learn about computers and fashion design. She had to leave school at 9th grade, but she is not done learning and succeeding.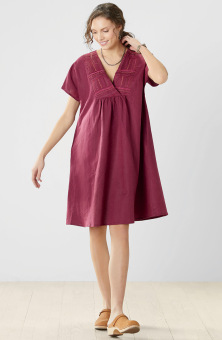 Namita Dress - Radicchio
$112.00–$116.00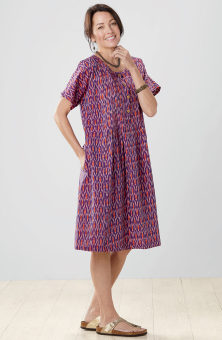 Chameli Dress - Wood violet/Multi
$104.00–$108.00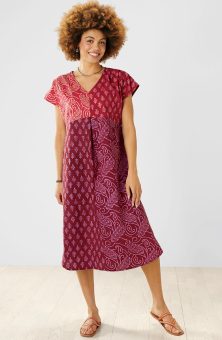 Mandla Dress - Wood violet/Multi
$94.00–$98.00
Write a review
---
Lovely dress for summertime
May 13, 2023 | By Helen Gilbert
I'm happy to have this dress for when our summer finally comes (it's been a slow spring here!) It's a beautiful color, and the neckline is especially flattering, with embroidery enhancement that gives substance to the front yoke. The knee-length is nicer for summer than the longer styles I have. And I like that the dress is less large and full than some I have ordered. I generally wear M/L and the Medium in this dress fits me well. A very wearable and pretty dress! Thank you to the dressmaker!
---
Another great dress from Marketplace!
May 14, 2023 | By Carol B Haynes
I love this dress! The color caught my eye, but it fits perfectly and the all cotton material will be so comfortable., Looking forward to wearing it sightseeing in Florence, Italy!
---
Vibrant Colors
Jun 4, 2023 | By EA
This dress is sewn beautiful vibrant colors it is lovely!
---