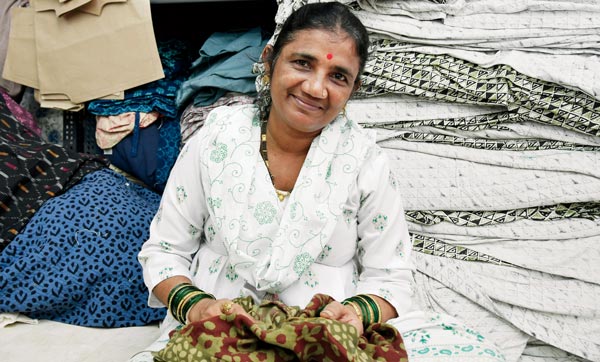 Kajal Chavan: Embroidery Artisan, Arpan
Kajal was determined to educate her son and daughter. To pay for fees and tuition, she and her husband took out loans. She then needed to earn money to repay them. To this end, she found employment wherever possible. She has belonged to several different cooperatives, some close to home and others she had to travel over an hour to reach. Hard work, long hours and traveling distances have never stopped Kajal from pursuing her employment and her goals. She takes pride in her children's accomplishments, as they both have professional degrees and good jobs. But she reflects that she herself benefitted in many ways from her experiences. Aside from sharpening skills, she learned about her own self–worth and developed a commitment to give back to society.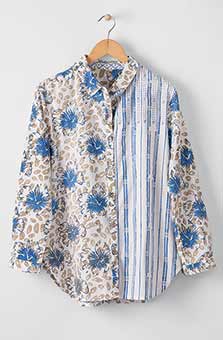 Jeevan Organic Shirt - White/Lapis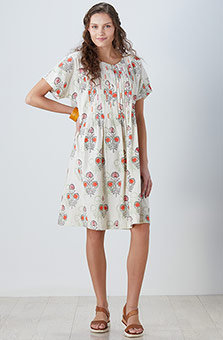 Chameli Dress - Natural/Multi
$108.00–$112.00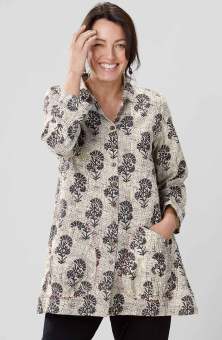 Anarya Shirt - Natural/Black
$92.00–$96.00
Write a review
---
Flattering Shirt
May 13, 2022 | By Marcia
This was a great purchase! I've gotten several compliments on this one already. It fits well, washes well, and is made well.
---
Comfortable and beautiful
Aug 4, 2022 | By Leishalynn
This shirt fits perfectly, it's one of my favorites. Bright, light, and easy to wear from office to evening, it looks as good on you as it does on the model. I love that.
---
Beautiful shirt
Dec 11, 2022 | By Sara Sluss
I have ordered many items from MarketPlace and love them all. This shirt appealed to me with its softer spring colors. I ordered a Medium, my usual size for shirts, and it was a bit small, so I ordered a replacement in Large which is a perfect fit. As always, the shirt is beautifully made with lovely detailing.
---