Design In A New Light:
At an organizational level we have had to redesign many systems, procedures and structures to accommodate new realities. For example, our designer Adele Mattern could not make her usual trips to India to work with the women at the embroidery workshops and finalize the lines. Instead we changed to replace in–person meetings with more Zoom calls, WhatsApp messages and by sending tons of photographs and samples back and forth. It was a cumbersome process, but it worked more smoothly with time and experience.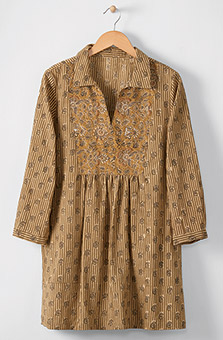 Shilpa Tunic - Olive
$82.00–$86.00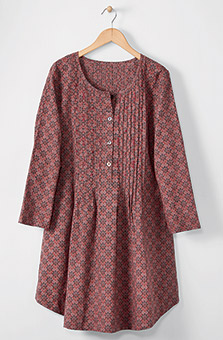 Asmita Tunic - Dusty plum
$78.00–$82.00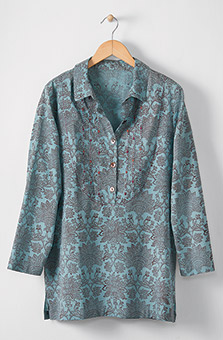 Bhavna Tunic - Dark aqua
$69.00–$72.00
CUSTOMER REVIEWS





As expected, exquisite
Oct 13, 2021
By Sara
I love Marketplace. A beautiful experience every time. This tunic was even prettier in person than on the web site...and a perfect fit for me. It was my birthday gift to myself and I will wear it when we go out for dinner in celebration.





What's Not to Love?
Sep 21, 2021
By Janet Hanks
The Naziya tunic is beautiful, comfortable, and stylish. Seriously, there's nothing I don't like about this garment. The embroidery gets me compliments every time I wear it, and the lines and color are so flattering. The lightweight cotton makes it layerable, too. Wearing it makes me feel wonderful on a lot of levels.





Love everything!
Sep 20, 2021
By Margie Katz
I have several pieces from Marketplace. All are terrific. The quality of workmanship is excellent and I love the styles. I am always happy with everything.