International Youth Day Celebrations
The artisans' children ages 12 and up celebrated International Youth Day on August 12, 2021. It was a day of refection, fun and connection. While they enjoyed getting to know one another, they also discussed serious topics that mattered to them, their communities and the world at large. These important subjects included the caste system, gender equality, the environment, and lack of medical facilities during the pandemic. They were gifted wristbands and the celebrations ended with refreshments.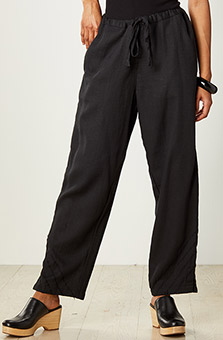 Neera Pant - Black
$72.00–$76.00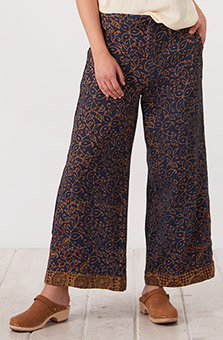 Sangli Pant - Navy
$88.00–$92.00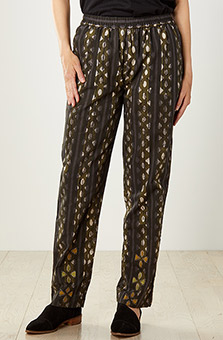 Kavya Pant - Dark olive
$72.00–$76.00
Write a review
---
Always beautiful, always comfortable
Sep 17, 2021 | By Karen Gleeson
These pants are another success from the MarketPlace women who make such beautiful garments. I am delighted to have drawstrings back, as I can now make the waistbands tight or loose as I need. For some reason, the elastics on the previous pants were always tighter than the pants themselves. But, as always, the designs and fabrics are beautiful and I often get complimented when I wear MarketPlace clothes, and am asked where others can get them. Thank you again.
---
No title
Feb 21, 2022 | By Anne Reese
Love the fabric , but Marketplace sizes are very in consistent. I have ordered Anne Reese
---
Great pants for warm seasons
Jun 3, 2022 | By Aleta
I love these pants with the drawstring waist and utilitarian pockets. These, unlike many of your pants, are long enough for my long legs (inseam about 31 in.). Beautiful colors and print that go with more of my existing tops than I expected. Great for warm days (too lightweight for winter weather) and mild summer evenings.
---