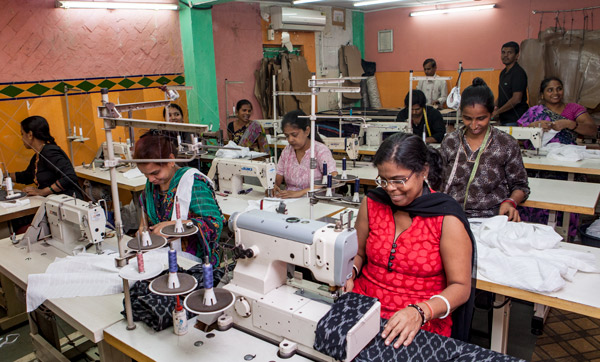 Nirmaan Cooperative Define Their Brand
Nirmaan is one of the oldest and largest groups, consisting of 12 tailors, 20 embroidery artisans, one cutter and two supervisors. Some of the artisans have actually been there for 30 years, and they have seen much growth. When clashes arise in the group, these elders often can intervene with wise suggestions to defuse the situation. It is a lively group, but everyone has the same goal. Whenever a change is considered, they hash it out before coming to a consensus. They love learning new things and are always eager to participate in social programs and events. Nirmaan chose these four aspects to describe their identity:

1.Unity
2.Hard Work
3.Quality
4.Communication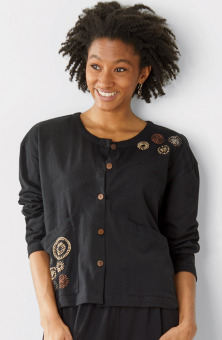 Gauri Cardigan - Black
$74.00–$78.00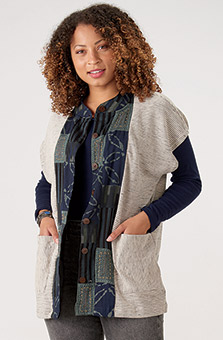 Manashi Vest - Natural/Chindi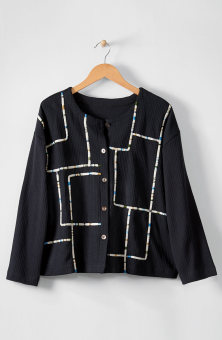 Riva Cardigan - Black
$98.00–$102.00
Write a review
---
Interesting and unusual
Sep 12, 2021 | By Rochelle Gatlin
The color is somewhat unusual for Marketplace (and I really like gray), and the fabric is new to me. It 's perfect for Fall. Has a cozy, yet cheerful look.
---
Relaxed beauty
Nov 8, 2021 | By Paula Mintz
The soft fabric is exceptionally comfortable and feels like a hug on the body. I love that this jacket is totally neutral and can be worn with any color.
---
Great sweater
Nov 16, 2021 | By Mary Cahill
It's warm; it's roomy; it's lovely. I love it.
---
love my Nimita Jacket
Aug 24, 2022 | By Jina P Lewallen
I love my new jacket! The fit is excellent and it goes well with black pants or skirt. I like that I can machine wash it as well.
---