Finding Her Independence
Left behind when her parents and 2 brothers moved to Mumbai, Sadhna, a tailor at WARE collective, only joined them when she turned 18. Denied a decent education, she took her future into her own hands. After completing a tailoring course she worked from home. She joined WARE because being part of a group provided friends, support and new opportunities. Her earnings gave her independence and status. With her saving she was able to help her father repay debts. Now he consults her about any major expenditures.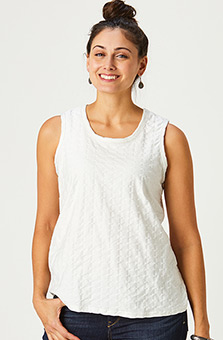 Alia Tank - White
$36.00–$39.00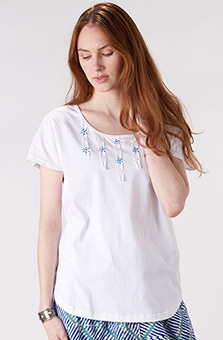 Dolman Tee - White
$42.00–$45.00
Panvel Skirt - Nasturtium
CUSTOMER REVIEWS





Love Love
Jul 22, 2020
By Debbie
I love this skirt! I really like having pockets in my garments, and this skirt has pockets. The elastic waist is wide, which makes it very comfortable. I like the colors, shades of blue, but also some white, and I feel I could wear any number of colors with it, not just blue and white. I'm pretty short (5'3") so this pretty much hits just above my ankles.