Independent Thinkers
Reading a newspaper was simply not part of the artisans' lives. Many of the women cannot read or write and they have little free time. Now, thanks to the cooperatives' weekly newspaper discussion groups, the women have become enthusiastic consumers of all types of news. The articles, chosen by an artisan on a rotating basis, are read aloud and then discussed, giving the women the opportunity to learn, share, be inspired, and, sometimes, laugh. Each group keeps a record of the articles for reference.
Renu Top - Nasturtium
Panvel Skirt - Navy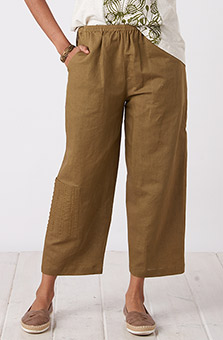 Kesari Cargo Pant - Curry Leaf
$78.00–$82.00
CUSTOMER REVIEWS





Panvel Skirt
Nov 10, 2021
By Kimberly Ann Crafton
Wonderful fit! Appreciate the air-dry option, so I can avoid using a gas dryer.





Great find
Oct 3, 2021
By Joanne
I bought this skirt in late summer and have worn it four times already. I love it! The fabric, the color, the fit. It goes with so many summer tops that I have. Now let's see how it holds up in the wash :-)