Finding Her Identity
In their discussions about the value of Independence, the artisans have shared their own stories. As children and young women they were not encouraged to make their own choices and they were not given many opportunities to achieve. Ramila came to Mumbai as a young married girl with no education. "I never thought I could do anything." Working at MarketPlace gave her not only financial help, but also an independent identity. She's now proud to have bought her own house and educated her children.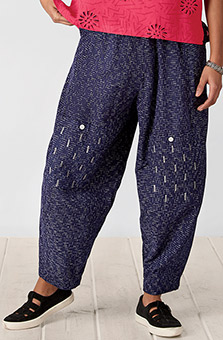 Field Pant - Navy
$78.00–$82.00
Pilani Jacket - Navy
$88.00–$92.00
Tijara Tunic - Sand
$92.00–$96.00
CUSTOMER REVIEWS





Make this dress in more colors and fabrics!!
Jun 27, 2021
By Jane
I love this dress -- it's got a terrific shape and fit. Loose but not baggy. Perfect summer dress. Please make it in more fabrics and colors -- I'd buy them all!





Great Dress
Apr 30, 2021
By Diane
Lovely fabric with nice drape. Sweet embroidery, GREAT shape. I also realyreally appreciate the PETITE sizing, along with cap sleeves, so that my short bod's not overwhelmed with material. And delighted to be supporting creative women artisans.





Gorgeous, Fun Dress
Apr 12, 2021
By Pat
This dress is fun and really gorgeous. The print is subtle but rich. The fit at the top is perfect. The blousy style will be great for hot summer days. The pocket placement makes this unique. This is my second purchase.





Super wonderful!
Apr 6, 2021
By Sue
I love this dress! The light weight cotton will work wonderfully for summer. It's not easy to find well made cotton clothing and Marketplace has a great selection with 1-3x sizes as well. I love the print and the color. I bought a 2x and it's a little longer than the photo but I'm petite. No worries though...it's fantastic!





My New Favorite!
Apr 5, 2021
By Stacie
I will be replacing my sweats with this lovely and easy dress for the summer! The cotton material is the perfect weight for our California summers. It is neither too thin or too stiff. It drapes wonderfully and is the perfect length for an easy, throw on, go anywhere dress. It washes well and after hanging it up to dry, I threw it in the dryer on low for 5 minutes to fluff it up. I am in love with this piece and can't wait to buy more from this company!