Valuing Their Independence
When the artisans met to discuss "values to live by" they decided "independence" was central to their lives now. They had to break a lot of rules and overcome many obstacles in order to have the freedom to make their own decisions. MarketPlace has sponsored numerous programs dealing with concepts such as decision-making, rights and respect which have helped the women as they find their own power. They are using their independence to make decisions which can improve the future of their families and communities.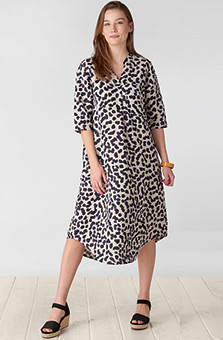 Nitara Dress - Flax/Black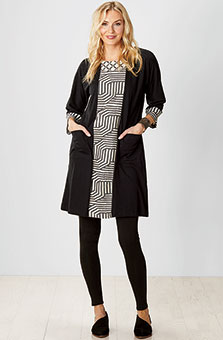 Patna Dress - Black/Natural
$88.00–$92.00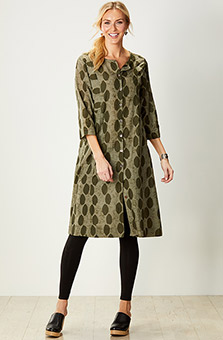 Bhavika Dress - Olive
$128.00–$134.00
Write a review
---
Oh, so disappointed
Jun 12, 2020 | By Margaret J Faulkner
This is a beautiful garment. Sadly, it doesn't offer the usual ease through the hips that I need. It is a slimming design and a good use of embroidery near the face puts the emphasis on the important things. I need to return this one, but if you are slimmer through the hips and me, feel free to order one. I sure you'll be pleased.

---
High Quality Workmanship
Jul 23, 2020 | By Alyce Leck
Every year I buy this dress in the new fabric. It is one of go to professional outfits and an easy casual choice. As always the workmanship and quality is an A+.
---
Stylish and comfortable dress
Mar 12, 2021 | By Deborah Frangquist
I love both the look and the feel of this dress, and I look forward to wearing it a lot as the weather warms. I did have to send the first one back, as I had ordered it too large. Jane in customer service was fantastic in helping me understand the garment measurements and speeding the delivery of the right size. (Now I know to check garment measurements carefully.)
I'm the kind of person who won't even wear something that isn't truly comfortable, so this dress is a real find. It makes me feel and look great. Being able to support Marketplace India and its artisans makes me even happier to wear this lovely outfit.
---
Patna Dress
Jul 16, 2021 | By Bonnie Hobbs
Arrived even sooner than I'd thought it would! The fit is perfect...a small. I'm 5'8" and 112 lbs. Not young. I washed it in cold water to set the dye and all seems fine. Looking forward to wearing it.
---