COVID Helped Us Reinvent:
The constraints and restrictions of the pandemic compelled us to find new ways to achieve our goals. Through meetings and actions the women worked together to march, protest and educate the public. They opposed corrupt officials and negligent garbage collection, and they attended training sessions on women's rights and health. But these were all in–person meetings and actions. We had to reinvent our strategy. Google Meet came to the rescue! The women, with limited or no computer experience, learned to use cell phones to attend virtual meetings, speak in turn – and mute/unmute.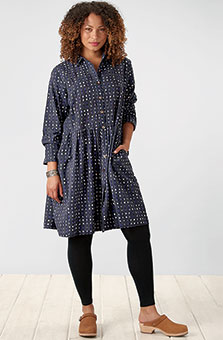 Rajni Dress - Mineral
$88.00–$92.00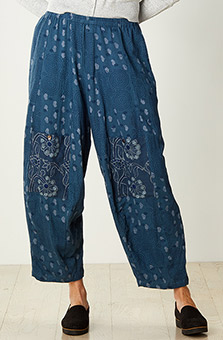 Field Pant - Ink blue
$82.00–$86.00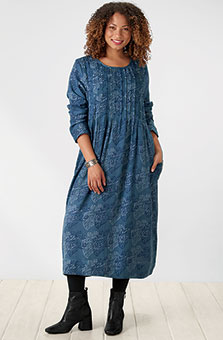 Antara Dress - Ink blue
$102.00–$108.00
CUSTOMER REVIEWS





So great
Jan 16, 2022
By Dori
Yes, I am plus size..and many times when I order clothes that say plus sized, many times they are smaller than labeled . This dress is not only incredibly beautiful but it fits perfectly! Love it!!!





Love it!
Dec 20, 2021
By Mary
I especially appreciate the wider sleeves. Some of the designs have sleeves that are too narrow for my 2x body. The beautiful print reminds me of my trip to the Annoki Museum.





lovely and comfortable
Sep 17, 2021
By Dasha Marshall
The fabric is soft, the design flattering, and the pattern lovely. And there are generous pockets!





Runs Big, but I Love It
Sep 4, 2021
By Beth
I bought this for a night dress to wear on a pilgrimage (with communal sleeping and shared bathrooms). I wanted something modest but comfortable for sleeping, and this definitely fits the bill. The two pockets are a bonus for a cell phone or a tooth brush. I bought a size "S" because I usually wear a small top and size 8 (US) jeans, but this is about two sizes too big. For my purposes, that is fine, but if you want to actually wear it as a dress, I suggest you get a size or two smaller than your usual.