Make From Waste
The women in the Social Action Program decided to find a more eco–friendly way to celebrate festivals. Typically Indian community celebrations produce decorations that are wasteful and bad for the environment, such as figures made of plaster of Paris and toxic paints. The artisans felt that they could make change happen on a personal scale by using recycled and leftover materials. In a friendly competition the women have turned leftover bits of cloth, paper, wax – whatever they find when they clean out their homes for the holiday – into wall hangings, vases, lamps and more.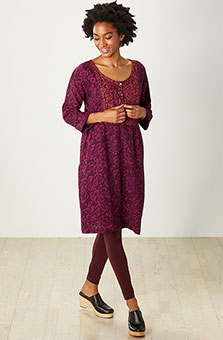 Nasreen Dress - Dark orchid/Multi
$92.00–$98.00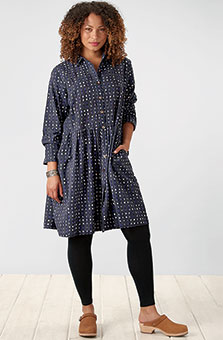 Rajni Dress - Mineral
$88.00–$92.00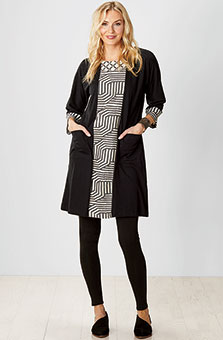 Patna Dress - Black/Natural
$88.00–$92.00
Write a review
---
Runs Big, but I Love It
Sep 4, 2021 | By Beth
I bought this for a night dress to wear on a pilgrimage (with communal sleeping and shared bathrooms). I wanted something modest but comfortable for sleeping, and this definitely fits the bill. The two pockets are a bonus for a cell phone or a tooth brush. I bought a size "S" because I usually wear a small top and size 8 (US) jeans, but this is about two sizes too big. For my purposes, that is fine, but if you want to actually wear it as a dress, I suggest you get a size or two smaller than your usual.
---
lovely and comfortable
Sep 17, 2021 | By Dasha Marshall
The fabric is soft, the design flattering, and the pattern lovely. And there are generous pockets!
---
Love it!
Dec 20, 2021 | By Mary
I especially appreciate the wider sleeves. Some of the designs have sleeves that are too narrow for my 2x body.
The beautiful print reminds me of my trip to the Annoki Museum.
---
So great
Jan 16, 2022 | By Dori
Yes, I am plus size..and many times when I order clothes that say plus sized, many times they are smaller than labeled . This dress is not only incredibly beautiful but it fits perfectly! Love it!!!
---