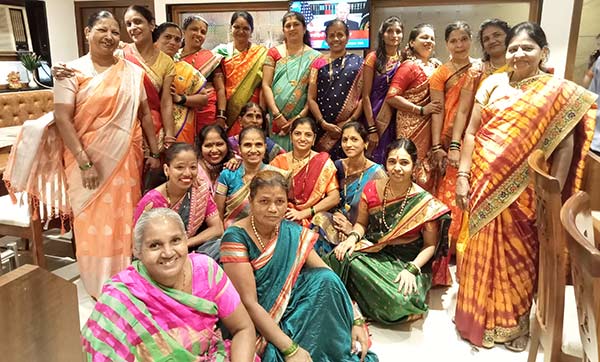 Arpan Cooperative Define Their Brand
Established in 1999 in Thane, roughly 29 km from Mumbai, Arpan has 10 tailors, 9 embroidery artisans and one manager. This is a group of strong and opinionated women who at times have lively "discussions." They are, however, quick to put aside differences to support one another, such as when they confronted an abusive husband, telling him if he did not change his ways he would have to answer to all of them! They also take on community problems such as clean water. Yet they also know how to have fun, celebrating festivals in coordinated saris and flowers. They identified with the following:

1.Unity
2.Support Each Other
3.Enjoying Every Moment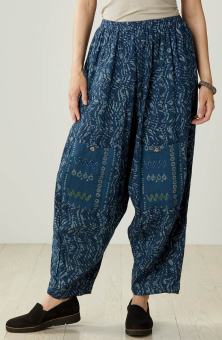 Field Pant - Dark pond
$98.00–$102.00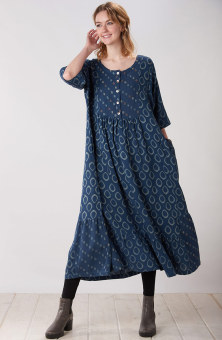 Zamania Dress - Dark pond
$128.00–$134.00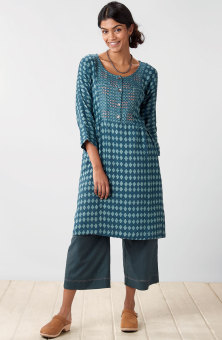 Nasreen Dress - Aquamarine
$112.00–$118.00
Write a review
---
I really wanted to like this dress.
Aug 21, 2022 | By Jennifer Litchfield
But unfortunately it did not work for me. I liked the color and pattern of the material. I have an awkward shaped body with a large bust and small hips. I ordered the small petite. (130 5'4") It fit but looked like I was wearing a tent. So I am returning. I return label would have been nice.
---
Perfect Indigo for Fall
Aug 25, 2022 | By Fiona
This is a lovely soft tunic which is perfect for late summer into fall. The indigo print of dots with circular stitching
is a lovely pattern for polka dot lovers!
Thank you to the women of India who made this so carefully and beautifully.
---
Patna Dress
Aug 27, 2022 | By shelly terry
The color, design and guidance on size are all great! Just as shown in the catalog and even the right length for me at 5'. In the catalog description it did mention a cotton crepe as the material and I wasn't sure what that would be like. But I have loved all the other dresses from you (100%cotton) so I thot it wouldn't be that different. I don't like the cotton crepe nearly as well due to clinging more and it is warmer than 100% cotton that was used previously. Will certainly keep shopping your catalog, but will be looking for the pure cotton w/o notation of crepe. Thanks so much--love all the designs ST
---
Gorgeous dress!!!
Sep 11, 2022 | By Renee Weitzner
This dress is stunning! The color and fit are simply terrific! I just love it!
---