Anshu Gupta Interviews His Grandmother Subhaga Gupta
During the summer of 2021, the children of the artisans were asked talk to their grandparent to learn how things had changed. "There were very limited resources when my grandmother was growing up. Both she and my grandfather would have to sometimes walk miles to buy particular items. You didn't get everything everywhere. But she shared that even though resources were limited, they were happy and life was simple. My grandmother always encourages me to understand importance of education and teaches me the difference between what is right and wrong."
Tijara Tunic - Sand
$92.00–$96.00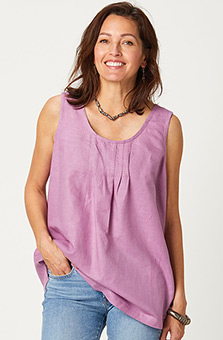 Shifa Tank - Crystal rose
$56.00–$59.00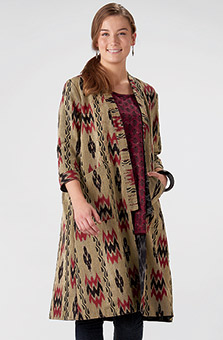 Reversible Ranvita Jacket - Almond/Black
$168.00–$176.00
CUSTOMER REVIEWS





Beautiful Jacket - But Size Down
Jul 26, 2021
By Ruma Costello
I was on the fence about ordering this jacket as I wasn't sure how much I would wear it; also because other reviewers said it was sized so large. I ordered it on sale and chose the x-small size even though I am normally a size 8-10. The sleeves are perfect. The rest is still a bit bigger, but over a top it is fine. Very well made, beautiful fabric. I wore it with a white lace top and skinny jeans and it looked so cute. I definitely think I'll wear this often instead of a sweater. It has side pockets too; a plus!





Great jacket if you adjust for size
Jun 15, 2021
By Kathy
I normally buy a 2x. After reading reviews I ordered a large and it is perfect! Love the jacket. Thanks to reviewers who mentioned size as it saved me from having to return.





oversized
May 2, 2021
By Susan
This is a very nice lightweight jacket - I like the fabric, color and pockets, however, it is seriously oversized. I am 5'3" and 166 lbs. Usually wear size L, but after reading the reviews I sized down to Med. and it was huge. Had to return.





Terrible sizing
Apr 6, 2021
By Mary Ann
The Pilani jacket tho attractive in pictures was huge! I ordered a 1x. Not just a little big but HUGE. I had ordered one size down. Very disappointing. Returned. I also ordered the pictured Crystal Rose sleeveless tank. I ordered in a 1x. It was way too small! The inconsistency of sizing in these two items was bad. Returned.