Independent Thinkers
Reading a newspaper was simply not part of the artisans' lives. Many of the women cannot read or write and they have little free time. Now, thanks to the cooperatives' weekly newspaper discussion groups, the women have become enthusiastic consumers of all types of news. The articles, chosen by an artisan on a rotating basis, are read aloud and then discussed, giving the women the opportunity to learn, share, be inspired, and, sometimes, laugh. Each group keeps a record of the articles for reference.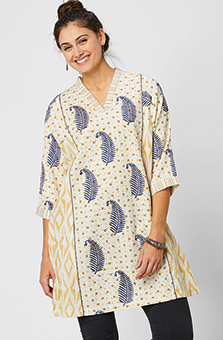 Sanika Kurta - Flax/Indigo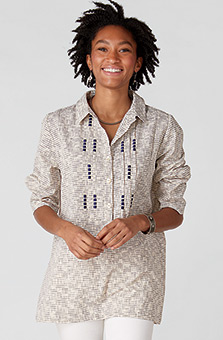 Bhavna Tunic - Natural/Navy
$76.00–$79.00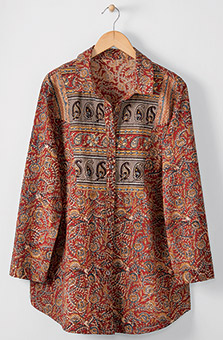 Namrita Top - Red natural dye/Multi
$75.00–$79.00
CUSTOMER REVIEWS





Soft and Comfortable
Jun 7, 2021
By Christine Engstrom
This is the perfect hot weather shirt, light, roomy for ease of movement. Attractive colors that go with most any pair of neutral slacks or denim. It's now my go-to shirt for summer.





Praveer Shirt Flax/Indigo
May 29, 2021
By Jacquelyn
Love the colors, design , & fit. It's very comfortable





Fits perfect
Apr 28, 2021
By Lesa D. Wright
Print on this shirt is very attractive and it looks just as it appears in the catalog. I usually wear size 6 or 8 and chose a small which fit perfectly.





Love this shirt!
Apr 17, 2021
By Sally
I was pleasantly surprised at the quality of this nice shirt! The fabric is substantial and the seams are well sewn. It held up well during my first washing. I bought a S when I am normally M or L and it fits me perfectly so do size down.