International Youth Day Celebrations
The artisans' children ages 12 and up celebrated International Youth Day on August 12, 2021. It was a day of refection, fun and connection. While they enjoyed getting to know one another, they also discussed serious topics that mattered to them, their communities and the world at large. These important subjects included the caste system, gender equality, the environment, and lack of medical facilities during the pandemic. They were gifted wristbands and the celebrations ended with refreshments.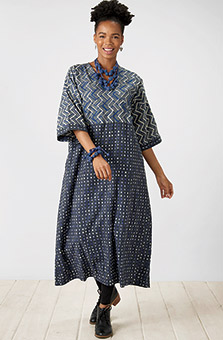 Jyothika Dress - Mineral
$92.00–$96.00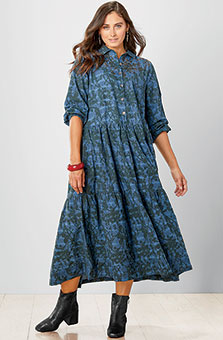 Sohini Tier Dress - Lake
$176.00–$182.00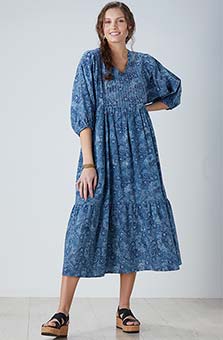 Zahara Dress - Blue
$118.00–$122.00
CUSTOMER REVIEWS





So versatile
Apr 30, 2022
By Anne
I wanted another Marketplace dress (I already own 5 others!) to take on an extended work trip that would bridge the winter and spring seasons. For the cold season, I could wear it with leggings and booties (that were hardly visible with this length) and a mock turtleneck in a coordinating color underneath. As it has warmed up, I have gone with just the dress. The fabric is a little thicker than most of my other Marketplace dresses, but that makes it good for spring and fall, when I can throw a jacket or sweater over it, too. It was a little baggy on me (I'm 5'7" and wear a M), so I cut a couple of inches off the bottom ruffle and made ties for the back so that I could give it a little more shape.





FYI
Dec 29, 2021
By Marilyn
This dress is wonderful! Size, color and fit are all just right.