Embracing Technology
Our development model incorporated a lot of personal interaction and group meetings. After the lockdown we had to come up with new ways to keep in touch with the artisans and their children. Technology was the answer, but there were some obstacles to overcome: limited access to smartphones, unreliable network coverage, and the need for everyone to learn (intimidating) new skills. But never underestimate the women! They took on the challenge with determination and humor, and now Google Meets, Zoom and "muting" have become household words. To read on visit our blog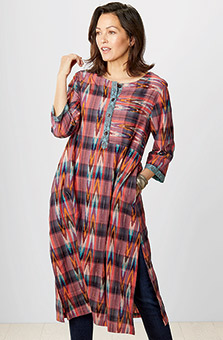 Avanti Kurta - Dusty plum/Multi
$98.00–$102.00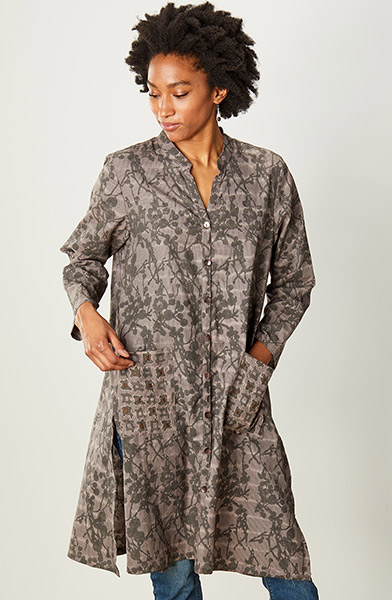 Tarini Shirt - Mushroom
$142.00–$148.00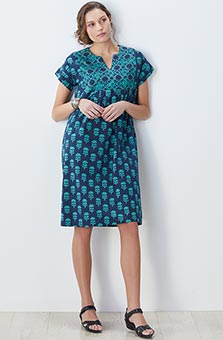 Mahika Dress - Navy/Teal
$89.00–$92.00
Write a review
---
Love this dress
Sep 4, 2021 | By Karen Baker
Dress arrived within the week of ordering. It is well-made, and fits very well. I got a 1X b because of the size of my bust (normally I wear extra large but I checked the size information). Beautiful depth of color and pattern and contrasting embroidery. Deep pockets. I wear with leggings. I washed after first wear, with a cup of white vinegar in the wash to set colors. Dress washed very well, with no noticeable shrinkage. Very pleased with this purchase.
---
I love this dress
Sep 27, 2021 | By Janet Sturtivant
I have bought many clothes from Marketplace and liked all of them but this I love. The material, the pattern of the material, the style, the fit, the color, the length; I mean it is perfect for me. Thank you so much.
---
The colors are very dark and muddy
Sep 28, 2021 | By Candace
This garment is well made, with pockets, and a good fit. However, the colors are muddy and the pattern is indistinct. Still, I needed a dress to garden in and this fit the bill. Please make a garment like this in white or natural..I purchased a white khurta many years ago from your company and it lasted and lasted!
---
Love the dress but runs large
Dec 11, 2021 | By Mary Somerville
The dress is very well made but seemed to run large. I have broad shoulders and usually wear a large size, so I ordered a large. But I've returned it for a medium. Hopefully the medium will fit better because I absolutely love the style! I'm going to rate it five stars, in hope that the medium suits.
---
Great
Dec 16, 2021 | By Marcia Ellis
Love this dress. Super comfortable. Perfect fall in to winter dress with leggings. Clogs in fall, boots in winter.
---
Love the dress!
Jan 3, 2022 | By Mary Somerville
It runs large for sure, so order a size down. Otherwise, great quality! Love it!
---
Love it
Jan 4, 2022 | By Susan Carole Gold
Nice fabric, well made, love the color, embroidery is well done
---