Kalamkari:
The word Kalamkari is derived from a Persian word where 'kalam' means pen and 'kari' refers to craftsmanship. Initially Kalamkari fabrics were hand painted but today wooden carved blocks are used. Kalamkari textiles were a prized trading commodity throughout Asia and Europe for hundreds of years. This traditional art has survived among dedicated artisans in southern India who follow the age–old techniques and natural dye recipes of this painstaking process. The process can involve 23 steps each requiring precision and an eye for detailing.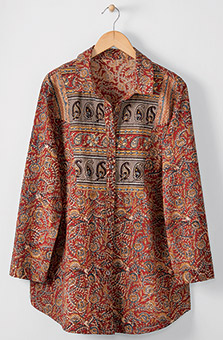 Namrita Top - Red natural dye/Multi
$75.00–$79.00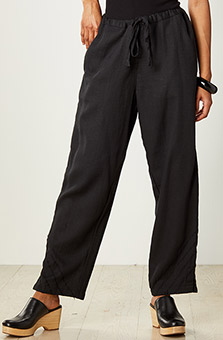 Neera Pant - Black
$72.00–$76.00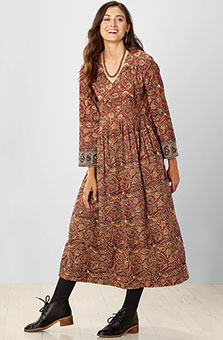 Geethali Dress - Red natural dye
$118.00–$124.00
Write a review
---
Perfect Marketplace Tunic!
Sep 6, 2021 | By Therry Neilsen-Steinhardt
There are three items offered with this very handsome Kalamkari print, a full Geethali dress, a Namrita shirt and this wonderful tunic. I chose the tunic and I'm delighted with it. I like the v-neck and the deep side slits, both of which are quite flattering. I adore the three-quarter sleeves. The striking way the tunic is put together with three different artful prints is particularly pleasing. I wear the tunic over leggings, but as the weather gets cooler, I'll be wearing it over navy Marketplace pants and jeans. I have a reversible Marketplace jacket with a navy print that will show this off nicely. I would love to say that I'll wear the tunic until it wears out, but I'm still wearing and enjoying the first thing I bought from Marketplace thirty years ago!
---
Beautiful Tunic
Feb 21, 2022 | By Jane
Just as depicted, of good quality in every way, arrived very promptly. Would recommend to others.
---