Mehak Parmar Interviews Her Grandmother Sitaben Parmar
During the summer of 2021, the children of the artisans were asked talk to their grandparent to learn how things had changed. "My grandmother mentioned that in their time less importance was given to education, especially for girls. The best thing I found is that she really likes spending time with me and taking care of me. I am very close to my grandmother but I didn't know that she also really liked spending time with me."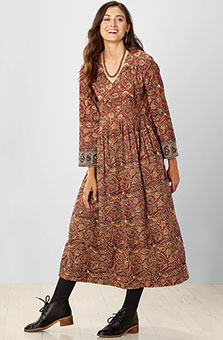 Geethali Dress - Red natural dye
$118.00–$124.00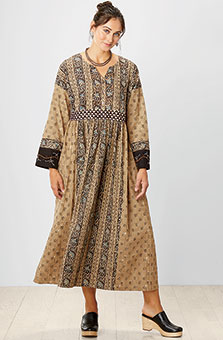 Manali Dress - Olive/Black
Panhala Jacket - Black natural dye/Multi
CUSTOMER REVIEWS





Lovely pattern
Dec 16, 2021
By Ellen
The dress is made well with great feeling material. Unfortunately, it runs quite large. Order a size down. It also has a strong chemical odor which may or may not come out in the wash. I will be returning the dress.





A Truly Lovely Dress
Dec 8, 2021
By Diane Mettam
I was so pleased with this dress when it arrived. The fabric is beautiful. When I put it on, I loved it even more. The cut is flattering and comfortable. I wore it for a church holiday event and it fit in beautifully.





Beautiful, beautiful
Dec 6, 2021
By Angela
This is my new favorite dress from Marketplace of India! Which is saying something because I have 30+ dresses etc from them in the closet. Long sleeves, V neck, princess shape, but the best is the gorgeous print!!!!!





Wonderful dress!
Nov 18, 2021
By Sandra Smith
This Ratna dress exceeded my expectations. The cut and drape are lovely and flattering. The fabric is gorgeous. It will be a go to item in my closet.