Designing Woman
When Mehmoda began as an embroidery artisan 25 years ago, she was unsure of herself: "I would not have believed I had the talent to design embroidery." But staff workers and her fellow artisans recognized that she had skills, imagination and leadership potential. Today she creates original designs for the design workshops. She was also one of 5 artisan who traveled to Kutch for special training. Kutch is famous for fine needlework and Mehmoda was inspired to continue to develop and improve her craft.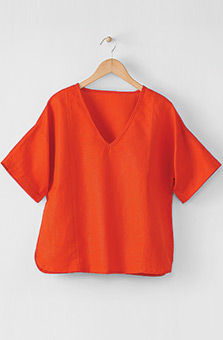 Arisha V-neck Top - Nasturtium
Panvel Skirt - Nasturtium
Panvel Skirt - Olive
CUSTOMER REVIEWS





Awesome color
Aug 1, 2020
By Liisa Balzar
Going to have to get more of these tops in more colors. Perfect summer top. Love everything about it. Fit is perfect. Vneck styling is just what I needed.





Color!
Jun 10, 2020
By Colette Rost
This color is gorgeous. This is a comfy top which I already have in mustard yellow and in black.