Celebrating Accomplishments
Grades 10 and 12 national exams are crucial events for students in India and results play a large part in determining future education and career options. Preparations for the tests can be grueling and the children really feel the pressure. The Armaan Club recently worked with 31 students who took the exams. Everyone of them passed! Since physical celebrations were not possible during Covid, the students celebrated by posting pictures, video messages, poems, and songs to thank their parents and program leaders for their support and help.
Maithree Big Shirt - Sand/River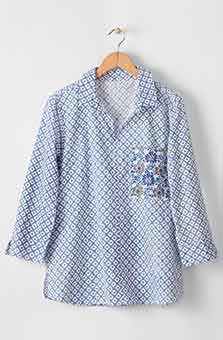 Renuka Organic Tunic - White/Lapis
$118.00–$122.00
Avni Top - White/Eucalyptus
$79.00–$82.00
CUSTOMER REVIEWS





Renuka Tunic
Dec 13, 2021
By Sheryl Doro
I loved the Renuka, Saanya and Shavna tunics but unfortunately the 2x (and even 3x in the Saanya) was too tight around the stomach for a 71 year old chubby lady. I thought the material and colors were wonderful. I would definitely order them again when they are available in a larger size. I gave them 5 stars for that but would caution chubby people about the tighter fit.





Spring Green
Apr 2, 2021
By Ginny
I got this blouse for spring and summer. It is a lovely subdued color. It fit me just right. I like the different fabric on the pocket.





Celery shirt review
Mar 31, 2021
By Wendy Perron
I love this top. The color, the subtle block designs, the lightweight cotton, make it comfortable to wear. And it looks great on Zoom!