Kalamkari:
The word Kalamkari is derived from a Persian word where 'kalam' means pen and 'kari' refers to craftsmanship. Initially Kalamkari fabrics were hand painted but today wooden carved blocks are used. Kalamkari textiles were a prized trading commodity throughout Asia and Europe for hundreds of years. This traditional art has survived among dedicated artisans in southern India who follow the age–old techniques and natural dye recipes of this painstaking process. The process can involve 23 steps each requiring precision and an eye for detailing.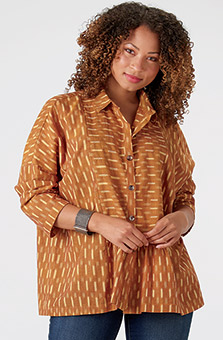 Jamini Shirt - Pumpkin
$74.00–$78.00
Panhala Jacket - Black natural dye/Multi
$128.00–$134.00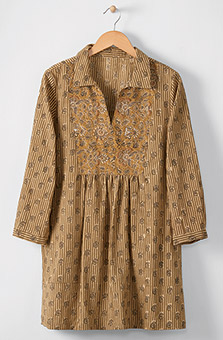 Shilpa Tunic - Olive
$82.00–$86.00
CUSTOMER REVIEWS





Great top!
Nov 30, 2021
By Susan
I love this top! It is roomy without being baggy, and the print is lush. The colors are gorgeous! It is perfect for work or for going out to dinner, but it is also comfortable enough to wear around the house on a day off.





The fabric alone is worth the price of the tunic
Nov 8, 2021
By Therry Neilsen-Steinhardt
This tunic is made of one of the best looking fabrics I have ever found at Marketplace, and I've been shopping with them for thirty years. The almond green and red kalamkari print is particularly interesting and lively, and the colors are particularly flattering to my autumnal coloring. The embroidered pocket is striking. I particularly like the shirt collar setting off the open neckline. The tunic flows very nicely over the body, and is nicely flattering. I've worn this tunic with either leggings or pants, and am planning to try it over a skirt with boots. T love Marketplace clothes, because not only are they beautifully designed and made they inspire me to dress my best so as to strike up conversations about the fabric and the style. I made up business cards with MarketplaceIndia.com printed on them, so that I can direct admirers to the website to find out about MarketplaceIndia's mission and their irresistible clothes!