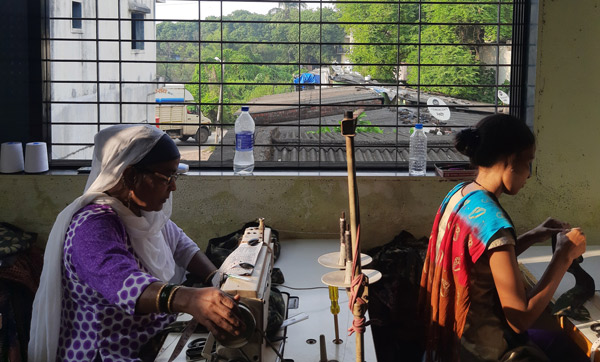 Ghar Udyog Collective Define Their Brand
Ghar Udyog is situated in Uttan, roughly 46 km from Mumbai. Located on the coast, the surrounding area is a fairly rural area and Uttan is like a large village. This group consists of 13 tailors, 14 embroidery artisans and one supervisor. It's an interesting mixture of young and older women who originate from different parts of India. While the sewing is done at Uttan, the embroidery artisans live in Bhavander, a short distance away. The geography makes it imperative that everyone can communicate clearly and frequently with their cooperative members and staff in Mumbai. They are very committed to all the social programs for personal development and social improvement. They are also good at locating useful resources in their community. They feel these aspects describe them:

1.Teamwork
2.Unity
3.Support Each Other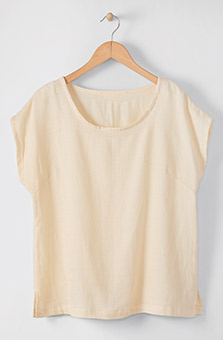 Tivisha Top - Natural
$52.00–$56.00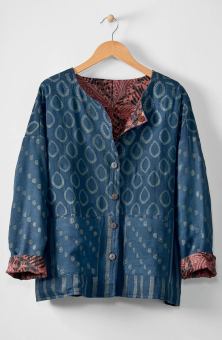 Reversible Zaina Jacket - Ambrosia Chindi/Dark pond
$168.00–$174.00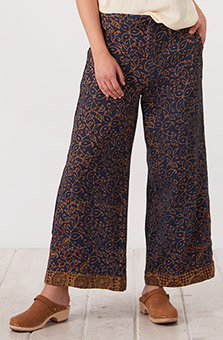 Sangli Pant - Navy
$88.00–$92.00
Write a review
---
Beautiful Versatile Jacket
Sep 12, 2021 | By Sandra Sanders
The Majuli jacket has beautiful hand embroidery on both sides and bot sides have such beautiful colors that it is hard to decide which one to choose. The fabric is sturdy and a good fall weight and the fit is very true to size. A great purchase!
---
Lovely jacket
Oct 17, 2021 | By Mary H. Stein
I'm so impressed by the careful workmanship on this beautiful jacket in a Misses' Small size, which fits perfectly. (I'm 5' 4" and weigh 128.).
---
I love this jacket.
Jan 13, 2022 | By Janet Duggins
Beautiful with either side out, so it's like getting two jackets! Feels lovely, too and fit is great. Very flattering style.
---