Invisible Effects of the Pandemic.
There are many sources of stress for the artisans during the lockdown. They are anxious about their livelihood, the health of their family, their children's future…On top of this they are stuck in crowded homes, working around the clock to take care of their families. Staff therapist Rupal Ajmera has arranged on-line sessions to help the women deal with issues of anxiety, relationships and time management. She holds regular Google Meets for groups of women, and artisans are also able to request individual sessions.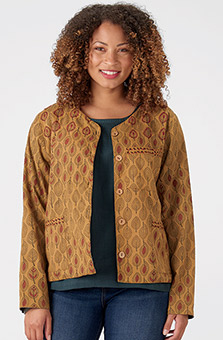 Reversible Indrani Jacket - Cypress/Brass
$112.00–$118.00
Reversible Trishna Jacket - Blue/Hickory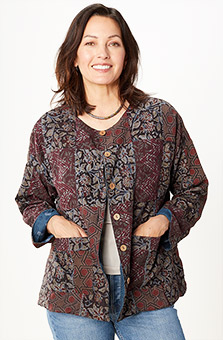 Reversible Zaina Jacket - Ink blue/Chindi
$138.00–$144.00
CUSTOMER REVIEWS





Reversible Meghna Jacket
Sep 16, 2021
By Sandra C Rothman
Very pretty and comfortable; runs true to size.