Learning without Schools
Artisan leaders and staff social workers are supervising the children as they try to continue their school work at home. They keep in touch by phone and distribute worksheets and assignments. It is a huge challenge for the students to concentrate at home, since the tiny space can be crowded with 5 to 8 people. The parents, especially those who do not know how to read or write, depend on this support to keep their children on track. While not a perfect substitute for schools, this is keeping the children engaged and learning. Click here to learn more.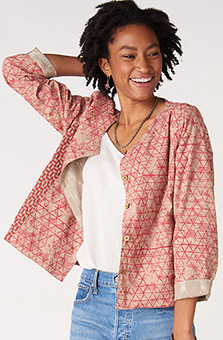 Reversible Harisha Organic/Ikat Jacket - Sunwashed red/Sand
$129.00–$134.00
Kavya Pant - Rosewood Black
Saroj Top - Black
$59.00–$62.00
CUSTOMER REVIEWS





Fantastic design, but I'd prefer a knit fabric
Jul 6, 2021
By Jeanne
The design of this jacket is perfect, slimming with princess seams outlined with stitching. I would love to see it in a non-reversible design with a different fabric. I did not care for the textured cotton fabric which arrive very wrinkled and already with some pulls in a few spots.