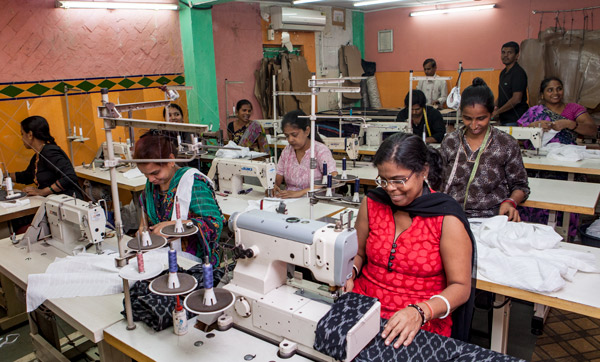 Nirmaan Cooperative Define Their Brand
Nirmaan is one of the oldest and largest groups, consisting of 12 tailors, 20 embroidery artisans, one cutter and two supervisors. Some of the artisans have actually been there for 30 years, and they have seen much growth. When clashes arise in the group, these elders often can intervene with wise suggestions to defuse the situation. It is a lively group, but everyone has the same goal. Whenever a change is considered, they hash it out before coming to a consensus. They love learning new things and are always eager to participate in social programs and events. Nirmaan chose these four aspects to describe their identity:

1.Unity
2.Hard Work
3.Quality
4.Communication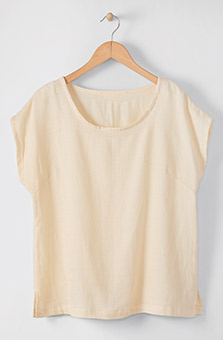 Tivisha Top - Natural
$52.00–$56.00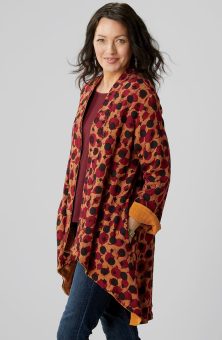 Reversible Shillong Jacket - Pomegranate/Saffron
$168.00–$174.00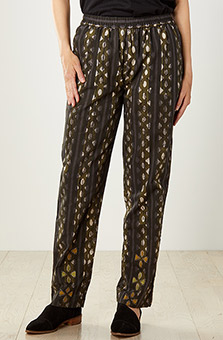 Kavya Pant - Dark olive
$72.00–$76.00
Write a review
---
Fabulous Jacket
Nov 6, 2021 | By Carol Jenkins O'Neill
I ordered the Shillong Reversible Jacket because it is so me (even my thrifty sister agreed). Also, I know from previous purchases that you produce quality, well-made, and properly sized clothing. I love the hand embroidery that embellishes your products. I love your color palette. The jacket fits perfectly and I just love it!
---
Overwhelming for a petite
Jan 21, 2022 | By Marlee K
I really wanted to love this jacket. Marketplace doesn't carry much in green, and this shade looks great on me. It just had too much bulk for my frame. I'm 5'2" and wear 1W. This jacket overwhelmed me.

Also, I ordered the same jacket in blue. It was noticeably smaller than the green one.
---
Stylish and great for cooler temps!
Oct 26, 2022 | By Jane
I love the colors and weight of this. It's great for fall weather and goes very well with olive green pants.
---
Reversible jacket
Oct 27, 2022 | By Vickie
Simply love,love this jacket! Vibrant colors great quality
---