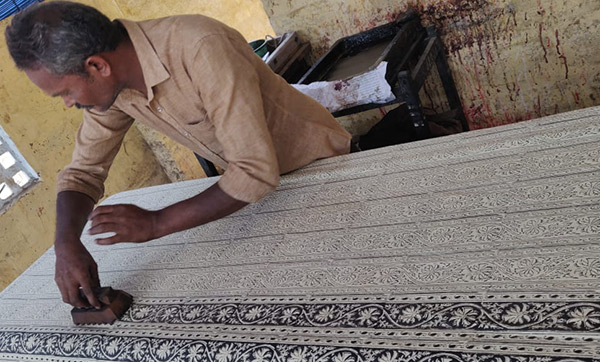 Kalamkari:
The word Kalamkari is derived from a Persian word where 'kalam' means pen and 'kari' refers to craftsmanship. Initially Kalamkari fabrics were hand painted but today wooden carved blocks are used. Kalamkari textiles were a prized trading commodity throughout Asia and Europe for hundreds of years. This traditional art has survived among dedicated artisans in southern India who follow the age–old techniques and natural dye recipes of this painstaking process. The process can involve 23 steps each requiring precision and an eye for detailing.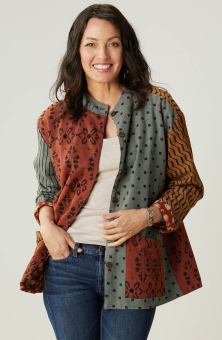 Reversible Chirala Jacket - Herb/Multi/Pepper
$162.00–$168.00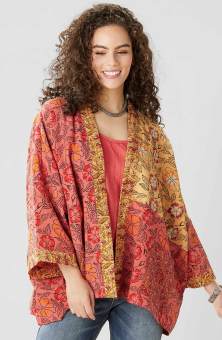 Sunita Jacket - Punch/Multi
$108.00–$112.00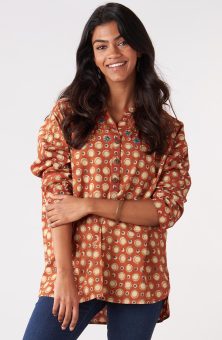 Manipur Tunic - Pepper/Multi
$78.00–$82.00
Write a review
---
Reversible Jacket Trisha red
Oct 7, 2021 | By Mary Jane Sjoblom
Very nice with tiny details of of stiches on front. Fits is good and generous. Red side is best for me.
---
Lovely Vibrant Jacket
Jul 18, 2022 | By Sandra Sanders
The reversible Trisha jacket is just right for most seasons with its vibrant color on the red side and its nice length. I could not be more pleased with this purchase.
---