Embracing Technology
Our development model incorporated a lot of personal interaction and group meetings. After the lockdown we had to come up with new ways to keep in touch with the artisans and their children. Technology was the answer, but there were some obstacles to overcome: limited access to smartphones, unreliable network coverage, and the need for everyone to learn (intimidating) new skills. But never underestimate the women! They took on the challenge with determination and humor, and now Google Meets, Zoom and "muting" have become household words. To read on visit our blog
Meera Jacket - Azure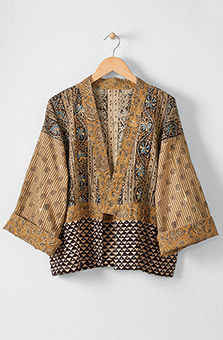 Sikkim Jacket - Olive/Black
$82.00–$86.00
Write a review
---
Read the fine print!
Nov 14, 2020 | By Carol Reinhold
I wish I had notice "Oversized Fit" on the item description before ordering my normal size L jacket! Fortunately, the M was still available, so I was able to make a satisfactory change after the fact. The jacket's colors are scrumptious, and the embroidery on both sides is just wonderful.
---
Love it!
Oct 4, 2021 | By Debra
Wonderful reversible jacket. Excellent quality and design. I've made several purchases from Marketplace and am happy with each and every purchase so far!! Many thanks!
---