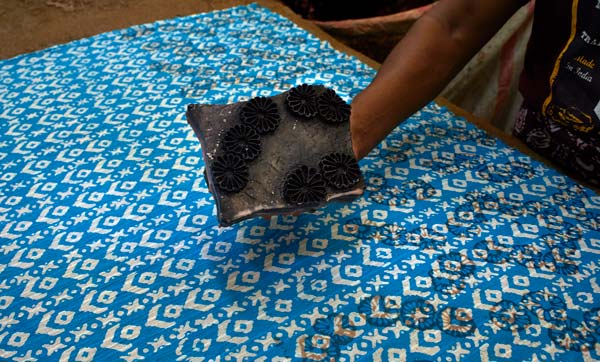 Batik Block Printing
The ancient art of Indian block printing includes distinctive regional styles. In all cases it is a labor–intensive, exacting craft. Teak wood blocks are hand carved with a variety of motifs and there is a wooden handle for the artisan to hold while stamping the cloth. The design can be dipped in dye and stamped directly. However, for Batik block printing the design is stamped with a wax resist which will block the dye when the fabric is dipped in dye. Multiple stampings and dyeing can produce complex patterns and colors. The wax is removed by melting it in very hot water, and the melted wax can be reused. Skilled artisans can combine different techniques to create uniquely beautiful fabrics.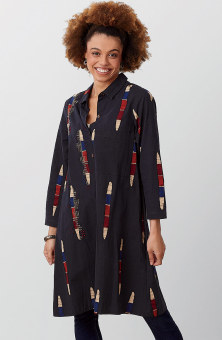 Nahila Shirt - Black/Multi
$128.00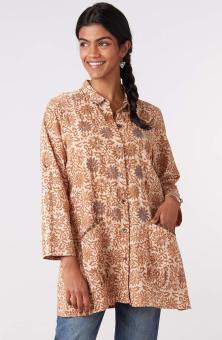 Anarya Shirt - Maple
$88.00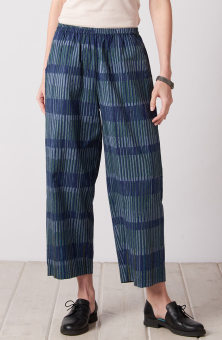 Kesari Pant - Dusty navy
$88.00
Write a review
---
Rima shirt
Sep 28, 2023 | By Deb
I love this big shirt; the fabric is beautiful, it will be great over skinny jeans or leggings or good all by itself on these warmer days. Most of all I am honored to support Marketplace and the women who make these wonderful garments.
---
I love these clothes!
Nov 4, 2023 | By Martha Cole
I ordered one shirt... just to see. LOVED it. Ordered a couple more items. LOVED them. Now on third order. They're well made, unique, beautiful. And I feel good knowing they're fair trade.
---