Earning Financial Independence
The artisans' discussion meetings have dealt with many subjects, from real life issues to more philosophical topics. When the subject has been Independence, the talks touch on both: fairness and practical applications. For Nanda Devi, Independence has meant that she has been able to earn and take care of her children, seeing them settle into productive and satisfying lives. She does not want her health issues to interfere: "I have been earning all my life and want to continue having my financial independence."
Divya Top - Cornflower/Multi
$68.00–$72.00
Sikkim Jacket - Cornflower/Multi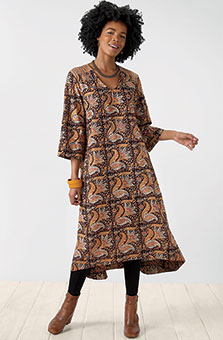 Zarine Dress - Black natural dye/Multi
$110.00–$116.00
CUSTOMER REVIEWS





great summer dress
Jul 19, 2021
By Judith D'Amico
I love my new dress. It is cool and comfortable as well as attractive. I get compliments every time I wear it. The sizing is accurate.





Lovely summer dress in beautiful cotton
Jul 15, 2021
By Victoria Elbroch
This dress is perfect and like so many of my Market Place clothes will last forever.





Cute, Comfortable Summer Dress
Jul 5, 2021
By Marianne Owen
This is one of those go to dresses for those hot summer days. If you are looking for an attractive, cool summer dress that you can easily slip on for a casual summer outing, I highly recommend this dress. The colors are soft and muted. You will not be disappointed. The relaxed style gives added comfort to the dress.





A New Favorite
Jul 3, 2021
By Marion MacDonald
Typical Marketplace India quality -- wonderful medium-weight mixed print cotton fabric, fantastic colors and perfect workmanship. As with all Marketplace India garments, you need to order a size down. I've been a customer for 20 years and have mysteriously gone from a large to a small, though my size hasn't changed.





Great dress interesting and artistic
Jun 12, 2021
By Maria
This is a very cool summer dress with sleeves that provide coverage. The 100% cotton material washes very well and does not require ironing. Just take the dress out of the dryer after a few minutes and hang it up to finish drying. It can be used with tights and a jacket when the weather cools in spring and autumn.





Perfect for Arizona summers
Jun 8, 2021
By Deborah Lane
I love this dress. Unfortunately, I ordered a medium and the top was too small. I have returned it for a large. I pray they have one. Sometimes I have to take in the skirt of the large. I am in between sizes. I am happy to adjust because I love these dresses and always get compliments.





Wanted to love it
Apr 21, 2021
By Linda
The fabric is so light, it feels somewhat "cheap" to me. Also the colors are faded and not like the picture. The M fits me ok and I usually wear a "12".





Great cotton shift
Mar 25, 2021
By Helen
This is the 3rd cotton shift I have purchased. Love them, and they are so cool in the summer.