A Pandemic Complicates Everything
When the All-India lockdown was declared in March, 2020, it immediately complicated how the artisan groups could get hold of needed supplies. The base fabric for printing came from larger mills, and that started to trickle in. But then the challenge was buying buttons, thread and embroidery yarn. Normally this involves a trip to one of Mumbai's specialized local markets. Lockdown rules kept these shops closed. The cooperative managers, however, had the shopkeepers' cell numbers and were able to arrange a literal backdoor deal!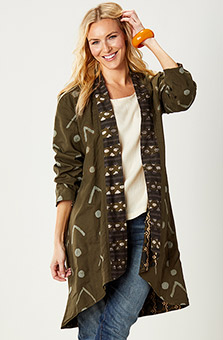 Reversible Shillong Jacket - Dark olive
$144.00–$148.00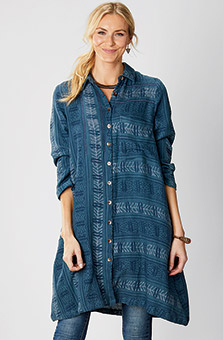 Nahila Shirt - Ink blue
$94.00–$98.00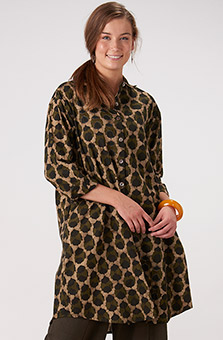 Rima Shirt - Almond/Dark olive
$82.00–$86.00
CUSTOMER REVIEWS





Timeless Elegance
Sep 11, 2021
By Marianne Luther
The tunic is everything I had hoped for. A piece like that is timeless.





Beautifully Made Shirt
Sep 7, 2021
By Elaine
This cotton shirt, i.e. tunic, is very long with shorter sleeves which do not have buttoned cuffs. The print is subtle and beautiful with the embroidery accentuating the print across the shoulders. Presently, the shell buttons are somewhat difficult to undo; however, this may change with repeated wear. To my delight, this order arrived very quickly.