Determined To Find A Way
When Arpit Tiwari needed access to a computer to participate in his online classes, he contacted the team at MarketPlace's Education for Life program. Although the programs were temporarily closed in the early months of the pandemic, staff members were able to accommodate this bright, hardworking and resourceful student. For 6 days a week an intern would unlock the door for Arpit and stay until he was done. Now, a year into the pandemic, although schools are still closed, the center is open full time for all the kids.
Avni Top - White/Eucalyptus
$79.00–$82.00
Sikkim Jacket - River/White
$79.00–$82.00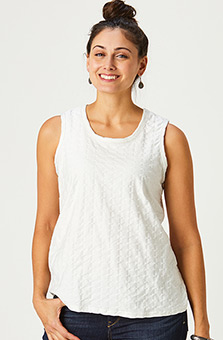 Alia Tank - White
$36.00–$39.00
CUSTOMER REVIEWS





An old favorite style in a new color
May 12, 2021
By Sylvia Cassil
This jacket is just what I need as a light extra layer before the weather gets hot. I love the colors in the print, and the embroidered details are really nice.