A Positive Change
Many artisans have really risen to the challenges of 2020. Komal from SMM Cooperative used to be shy, insecure and spoke very little. Although she had a motor scooter, she was uncomfortable when people asked her to use it to do errands for the group. Yet when public and private transportation were halted, she jumped right in to volunteer her services. Taking on and succeeding at this responsibility has increased her confidence, and she has gone on to join the group responsible for Quality Control.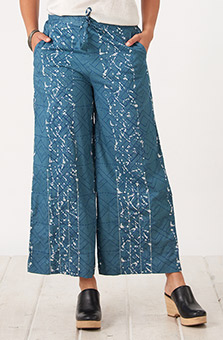 Sangli Pant - River/White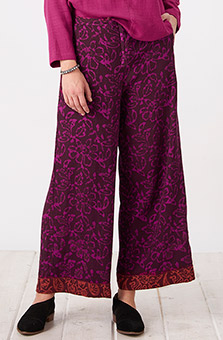 Sangli Pant - Dark orchid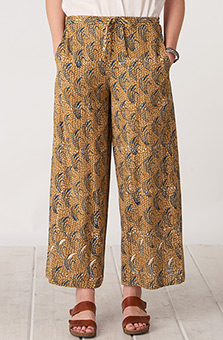 Sangli Pant - Wheat/Indigo
$74.00–$78.00
CUSTOMER REVIEWS





Cute and comfy
Jun 3, 2021
By Nina
I wore these for the first time to the city 40 miles away. I was stopped several times by various ages of women complimenting me on my pants. One of them asked me where I got them, so I gave her your info. I'm 5'5", 125 lbs and the small fit perfectly. The pattern is adorable and will go with anything, plus I got them on sale.





outstanding colors!
Nov 2, 2020
By Susan Carole Gold
They are very colorful, comfortable, good quality, I have been buying clothing from this company for a number of years and always have been delighted with the items. The clothing does run large however, I usually wear a medium, but order a size small which is perfect!





Sangli pant multi color
May 5, 2020
By Barbara Peck
Love them. Lightweight and so very well made. Blessings for you all