Kalamkari:
The word Kalamkari is derived from a Persian word where 'kalam' means pen and 'kari' refers to craftsmanship. Initially Kalamkari fabrics were hand painted but today wooden carved blocks are used. Kalamkari textiles were a prized trading commodity throughout Asia and Europe for hundreds of years. This traditional art has survived among dedicated artisans in southern India who follow the age–old techniques and natural dye recipes of this painstaking process. The process can involve 23 steps each requiring precision and an eye for detailing.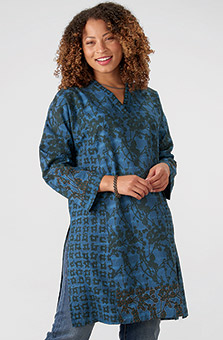 Sanika Kurta - Lake
$138.00–$144.00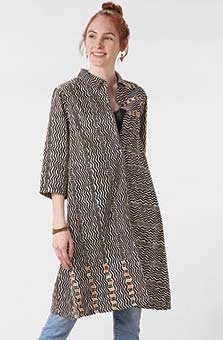 Nahila Organic Shirt - Black/Natural
$152.00–$156.00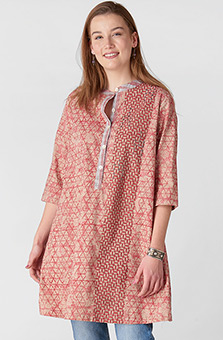 Suveera Organic Tunic - Sunwashed red
CUSTOMER REVIEWS





Beautiful!
Jun 27, 2022
By Mollie Singh
This tunic is really beautiful-the colors, the details, the handwork all make it a special piece. Yes, it runs large- I usually wear things on the high side of large, but medium here is just right.





Loved it so much I ordered a second one when I lost weight
Jun 27, 2022
By Mary
It was so great and comfortable when I was over 220 lbs, I wore it even when I had gone down 3 sizes. Finally gave in and ordered a new one in my new size and it is just as great. Comfortable and cool for our humid weather.





Kurta Comfort
Dec 15, 2021
By Marianne LUTHER
This kurta is not only comfortable and practical, but it is also beautiful. It can go from regular day wear to enhancing a special occasion, depending on how it is accessorized. I am happy to add it to my MarketPlace wardrobe.





Great!
Sep 22, 2020
By Margaret J Faulkner
I'm so glad I ordered this garment. The fabric and use of it are exquisite. It is also a slightly heavier weight fabric than usual, making it perfect for fall. The kurta is a perfect pandemic garment that can be worn just about everywhere. The other day during a Zoom meeting, one of my friends complimented me on the garment. The colors are perfect for Fall. I highly recommend your selection of kurtas. You put it on and you're done for the day.





Sanika Kurta
Sep 17, 2020
By Margie Scannell
Very well made. Lovely fabric color and quality. Sizing is generous. I ordered an L but a M might have done. Nevertheless I kept the L and it is just fine. Always gets compliments when I wear it. I LOVE IT.