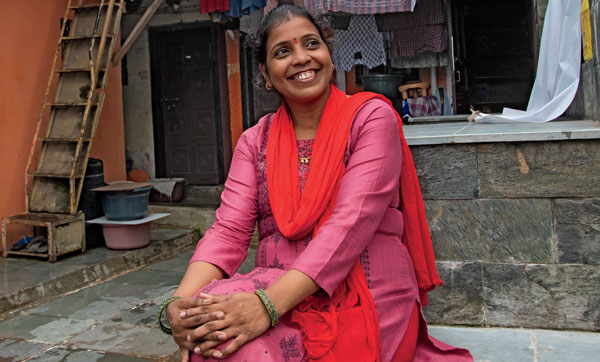 Shivangi Mestry: Embroidery Artisan, Pragati Cooperative
Reflecting back on her life, Shivangi Mestry sees a dividing line: before and after joining the Cooperative. Before she joined, she was taking care of the household, but found little enjoyment. When she started work as an artisan, she had no particular expectations, "But suddenly I found myself with an identity and life of my own!" Among the many new experiences she encountered with the group: celebrating birthdays, going on picnics, and performing skits. She was thrilled when her group won a contest at the Women's Day Celebration. She loves to dance, but there had been no opportunity for such activities in her former life. But as part of the Cooperative, she has performed three times, "the fulfillment of a dream!"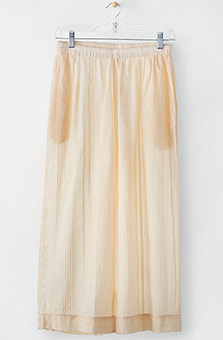 Voile Culottes - Natural
$52.00–$56.00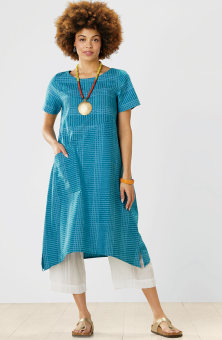 Maisha Dress - Blue agave
$94.00–$98.00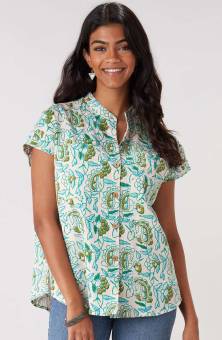 Pranay Shirt - Natural/Mediterranean blue
$88.00–$92.00
Write a review
---
Great dress
May 11, 2023 | By Katharine Biehler
Beautiful fabric, flattering style
---
So pretty!
May 13, 2023 | By Kim
The colors are beautiful and the embroidery detail is done well. The sizing listed on the website is correct which was very important to me.
---
Lovely tunic dress in blues/greens
May 15, 2023 | By Vicki
Lovely, blue/green print, gorgeous fabric, hand embroidered, tunic/dress. Completely happy with my purchase from Marketplaceindia.com. Shipped quickly, packaged nicely. Thank you! I will order again.
---